William Dargue  A History of BIRMINGHAM Places & Placenames from A to Y
Penns
B76 - Grid reference SP131931
Penns Mills; first record c1618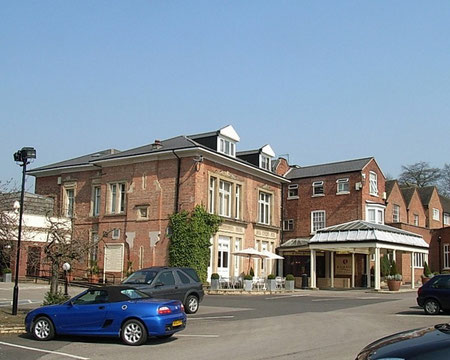 This is a locality in Walmley, Sutton Coldfield named after Penns Mill. The name, which now has limited use, derives from a family name and is now used for the name of the road, a primary school and Penns Hall hotel.

In 1618 John Penn ran two water mills here, one a corn mill, the other a blade mill both taking water from Plantsbrook (also known as Ebrook ie. East Brook). They were known as Penns Mills. In c1750 Joseph Webster, a blade miller at Perry Barr leased Penns Mills which by 1776 he was using for drawing wire and for fulling.
With his son, Joseph Webster II successfully developed the wire drawing side of the business and and also took on Plants Mill, producing steel wire for fish-hooks, needles, and strings for musical instruments. Joseph Webster's use of crucible cast steel in wire production enabled him to steal a march on his competitors and by the late 1820s the firm began to dominate the European market in piano wire.

In 1812 cottages were built adjacent to the mills for the workers. By this time the family home, Penns Hall was a substantial country house and the mills employed some some 150 workers. In 1855 the business merged with that of James Horsfall at Hay Mills four years later all operations were transferred to Hay Mills and Penns Mills closed causing to serious consequences local employment.

In 1865 Penns Hall was bought by James Horsfall succeeded by his son Henry who was still living there in 1891. The mill buildings were demolished in 1895. The hall was sold in 1947 to Ansells Brewery who subsequently converted into an hotel which it still is. Lakes and watercourses remain as evidence of the former industrial operations here. Penns Lake, noted for its carp, is well-known to anglers. Long and narrow it measures over 3 hectares in area and has a variety of attractive features for fishermen.
Penns Station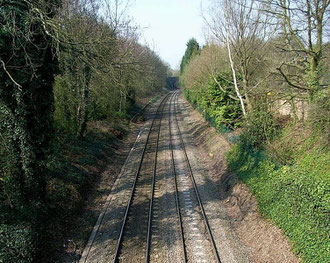 The Wolverhampton-Walsall line was built in 1872 by the Wolverhampton & Walsall Railway Company and worked by both the LNWR, London & North-Western Railway and the Midland Railway. It was bought by the LNWR in 1875 and then by the Midland Railway in 1876. An extension via Sutton Coldfield was built in 1879 by the Midland Railway to join their Birmingham-Derby line between Castle Bromwich and Water Orton with three stations on the route at Penns, Sutton Town and Sutton Park (See also Sutton Park).

Sutton Town station closed in 1925 with the rest of the line closing to passenger traffic with the 'Beeching Cuts' in 1965. The line is still much in use for freight traffic. There is no trace of the station building at Penns, although the remains of the platforms can just be made out from Penns Lane bridge. North-east of the road bridge, a place of worship with a long thin car park now stands on the site of the goods yard.
Click to enlarge the images in the Gallery below.
William Dargue 04.04.2009/ 19.12.2020