William Dargue  A History of BIRMINGHAM Places & Placenames from A to Y
The Pelham
B8 - Grid reference SP115877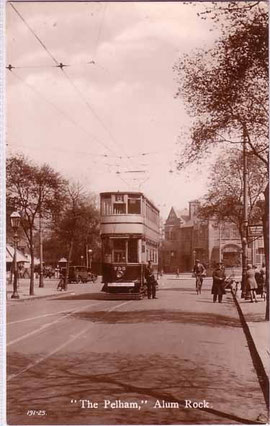 The junction of Alum Rock Road and Sladefield Road was named after the public house of that name.  After the World War 1 the Alum Rock area began to be developed with housing, and then extensively with municipal housing after the Second World War. At this time the junction became known as the Pelham after the public house which may itself have taken its name from Pelham Road.
There seems to be no Birmingham connection with this name: it may have been taken from a streetname in Kensington, London to add some cachet to the pub. The original pub was replaced with a new building of the same name c1990 which itself has since been replaced by a supermarket. The name of the junction is likely to fall out of use as a result.
See also Alum Rock and Little Bromwich.
 Left: The Pelham - date unknown - Thanks for the use of this postcard to JKC on the Birmingham History Webring Forum. 
Click to enlarge the images in the Gallery below.
William Dargue 04.04.2009