William Dargue  A History of BIRMINGHAM Places & Placenames from A to Y
Alum Rock
B8 - Grid reference SP115875
Alom Rock: first record 1718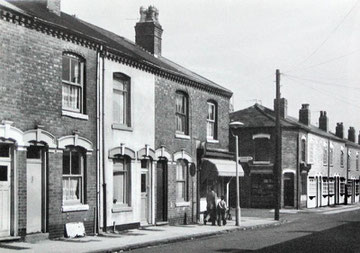 Alum Rock in 1960 - At the west end of Alum Rock, close to Saltley, these houses were built at the end of the 19th century.
Reproduced with the kind permission of the late Keith Berry. All rights reserved. 
Walk down Alum Rock Road around its junction with Cotterills Lane and you will find a thriving shopping centre. One hundred years ago the scene was very different, for Alum Rock was at that time a tiny rural hamlet. Spreading out from the city centre, the nearest housing developments had at that time only reached Shaw Hill at the west end of Saltley. It was not until after the First World War that the area began to be developed with housing, and not until after the Second World War that there was extensive municipal building.

In the Middle Ages this district was the southern part of the manor of Little Bromwich, a name which is no longer in use. See also Ward End.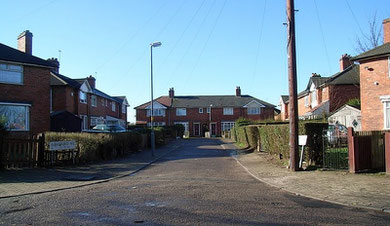 The Placename
The name of Alum Rock presents problems of interpretation. As Alom Rock, it is first found documented only in 1718. Without an early record it is diificult to determine its original form, as placenames often change markedly with time. The origin of the name, therefore, is uncertain, and it may or may not be related to the mineral, alum to which it seems to refer.
Alum is a chemical used for fixing dyes, in paper making and tanning. It is not found in a natural state in Britain but is manufactured from types of shale largely found in north-east England. It is unlikely to be the origin of this placename. 

The London & Birmingham Railway
Alum Rock is separated from Bordesley Green to the south by the London & Birmingham Railway. Opened in 1838, this was Birmingham's second railway after the Grand Junction (Birmingham-Liverpool) Railway completed the previous year. It was engineered by the railway pioneers, father and son, George and Robert Stephenson, and took the physical labour of twenty thousand men almost five years to build. When the trains started to run, the impact was enormous and almost immediate. A horse-drawn stage coach on the 100-mile journey to London took some twenty hours plus two overnight stops to reach its destination. The journey by train took just five hours - it was now possible to get to London and back in the same day. The London line comes to Alum Rock via a deep cutting through the Saltley ridge, and crosses the Cole valley viaduct before cutting through the Yardley ridge after Stechford station.
See also The Pelham.
William Dargue 02.09.2008/ 29.10.2020