William Dargue  A History of BIRMINGHAM Places & Placenames from A to Y
Arden Hill
B76 Grid reference SP155952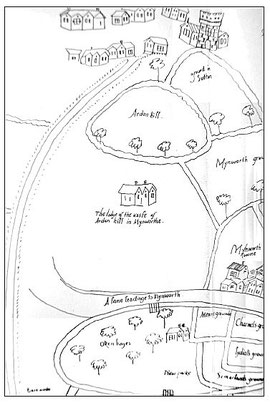 Shown on a 16th-century map, this is the high ground east of the Plantsbrook/ Ebrook valley east of Sutton Coldfield. 
The Forest of Arden was an area of wood pasture and ancient farmlands on the eastern side of the Birmingham plateau, the land lying between the River Tame and the Warwickshire Avon. The name is believed to derive from the old British word ardu meaning 'high land', the same word as in the Ardennes in Belgium.
It was heavily forested until early modern times, an area through which no Roman roads were laid and bounded by Icknield Street, Watling Street and the Fosse Way. There is still a significant amount of woodland in the area, hence the tag 'leafy Warwickshire'.
The forest overlies a large area of clay resulting in natural vegetation of dense broadleaved woodland, primarily oak and also lime. The woodlands were successively cleared for pastoral but also for arable agriculture from the earliest times, initially on the poorer soils. Small meandering rivers and streams led to marshland in the valleys.
From the Middle Ages this was an area of assarts rather than of the nucleated villages typical of the Feldon area of southern Warwickshire. Individual families would clear land and set up home on previously uncultivated land, often known as waste. Traditional buildings in the area reflect the geology and vegetation and are of wood and brick. Stone buildings are uncommon and are often referred to by name eg. Stonehouse.
Although there were open field systems which were later enclosed, much of the landscape is characterised by irregular fields surrounded by hedgerows, narrow, winding lanes and dispersed settlement of farmsteads and hamlets.
Map above from Birmingham Archaeology 2006 Peddimore Hall Barns Historic Building Research and Recording.
Sutton Coldfield is at the top of the map, Minworth bottom right; the new park bottom right is Berwood, now Castle Vale. The lodge in the waste of Arden Hill is Peddimore Hall.
William Dargue 05.08.2012