William Dargue  A History of BIRMINGHAM Places & Placenames from A to Y
Allens Cross
B31 - Grid reference SP011795
First record 1631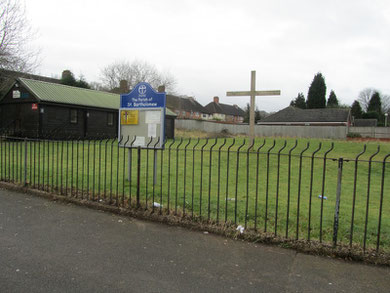 The first written record of this Northfield name dates from 1631. Although its origin is unknown, it almost certainly derives from a family name. The term cross could mean simply 'crossroads'. However, a deed of 1631 implies the existence of an actual cross here. The fields of Allens Cross Farm on Hoggs Lane near the junction with Frankley Beeches Road, and its neighbours were built over during the 1930s as part of extensive housing developments which were then known as the Allens Cross Estate.
St Bartholomew's church

In 1938 an Anglican church, St Bartholomew's was opened south-west of the junction of Allens Farm Road and Hoggs Lane close to the site of Allens Cross Farm. It was built in a red-brick romanesque style typical of the time.
The church building was subject to an arson attack in 1998, declared redundant in 2003 and demolished in 2006. Church services then took place at Hollymoor Old Chapel, Manor Park Grove, the former chapel of Hollymoor mental hospital, but have now transferred to Holloway Hall community centre on the Ley Hill Estate. The church hall on the orginal site is still used for some services and functions.
William Dargue 02.09.2008/ 29.06.2012/ 24.01.2021