William Dargue  A History of BIRMINGHAM Places & Placenames from A to Y
Aston Triangle
B7 - Grid reference SP074875
First record: c1990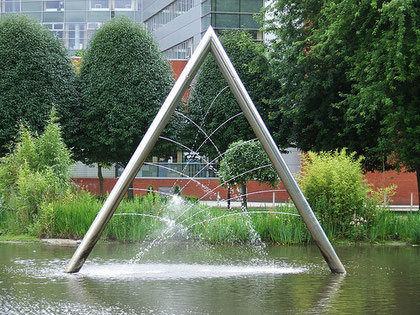 The name Aston Triangle, its apex at the junction of Jennens Road and James Watt Queensway, was coined in c1990 to encompass the campuses of Aston University and the University of Central England, now known as Birmingham City University, at Gosta Green.
Neither Aston Triangle nor Aston University are actually situated within the ancient parish or manor of Aston, but in Birmingham.
Left: Aston Triangle by William Pye. Born in London in 1938 William Pye studied at the Sculpture School of the Royal College of Art. He is internationally famous for works using metal and stone and frequently water. Many of his sculptures are commissions and tend to be on a large like this one on the campus of Aston University.
William Dargue 02.09.2008/ 30.07.2010