William Dargue  A History of BIRMINGHAM Places & Placenames from A to Y
Alcester Lanes End/ Alcester Lane's End
B14 - Grid reference SP074808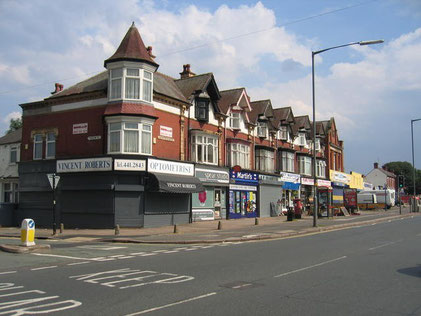 Image left: Alcester Road South - The Alcester Road from central Birmingham passes through a variety of residential areas, occasionally interspersed with groups of shops, such as these typical examples at Alcester Lanes End. 
This view looking south shows the east side of the Alcester Road South with Taylor Road on the left. 
Photograph and italicised text from the Geograph website, OS reference SP0780 © Copyright David Stowell and licensed for reuse under a Creative Commons Licence. 
Image below: This view taken after 1906 from roughly the same place shows the west side of Alcester Road South. Woodthorpe Road is on the right. The original Kings Arms can be seen on the far left of the photograph. Image on Old Birmingham Pictures website courtesy of Ian FOFB.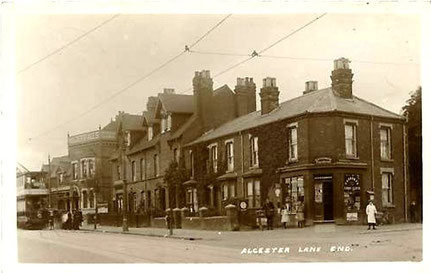 This location, around the King's Arms Hotel, is at the southern end of Kings Heath High Street where the Alcester Road begins. Until the road from Birmingham to Alcester was turnpiked in 1767 and the open heath was enclosed, Kings Heath was agriculturally undeveloped waste. Before the making of the turnpike, there was no Kings Heath High Street.
The original road across the heath took a circuitous route via Valentine Road, Springfield Road, Barn Lane and Wheelers Lane before reaching Alcester Lanes End. From 1801 the turnpike road was straightened to its present line along the High Street and it may be that the name first came into use at that time.
Tram terminus

In 1906 Alcester Lanes End became the tram terminus after the the line was extended from Kings Heath. This encouraged housing development and the building of the nearby shops. The Kings Arms public house is shown on the 1884 Ordnance Survey map and may well be older. Rebuilt after 1906, the pub and/or the location around the pub was and is still known by some as 'The Knob'. The reason is unknown but, as the tram terminus was outside the pub, there may be some reference here to turning the tram's pantograph for the return journey into Birmingham. The tram itself was not turned round as it had a driver's cab at both ends.
A belt of housing was built in the area towards Kings Norton after the First World War. In 1920 St Joseph's Mission church was set up probably by Christ Church in School Road, Yardley Wood and continued in use until World War 2. 

See also Kings Heath.
William Dargue 02.09.2008/ 26.06.2012