William Dargue  A History of BIRMINGHAM Places & Placenames from A to Y
The Ashcroft Estate
B7 - Grid reference SP082874
First record c1930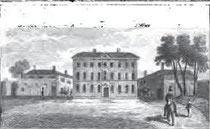 Image from Beilby, Knott & Beilby 1830 An Historical and Descriptive Sketch of Birmingham,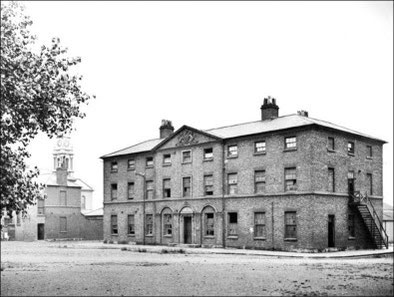 The Barracks
In 1791 the peace of Birmingham was disturbed by the 'Church & King' Riots. The unrest was provoked by a meeting of dissenters who were celebrating the second anniversary of the 1789 French Revolution at a private dinner.

For four days after 14 July, Bastille Day, a drunken mob over a thousand strong rioted in the streets of Birmingham. To the slogan,  'Church & King' they caused havoc in the town and beyond. It was not until 17 July that 64 men of the 15th Regiment of Dragoons were force-marched from their Nottingham barracks to quell the disturbance.
The troops were welcomed by the frightened population until it was realised that they were were to be billeted in local houses. As a result of sustained public pressure by householders, permanent barracks were built in Barrack Street the following year to house 150 cavalrymen and their horses.
See the 1791 Riots.

The barracks survived until the 1930s when the Ashcroft Estate was built on the site between Barrack Street and Windsor Street. The name seems to be have been a name coined from Ashted, the name of the district + croft, the latter word having rural associations and meaning an 'enclosed arable plot attached to a house; a vegetable garden.' By the 1930s the district could not have been less rural.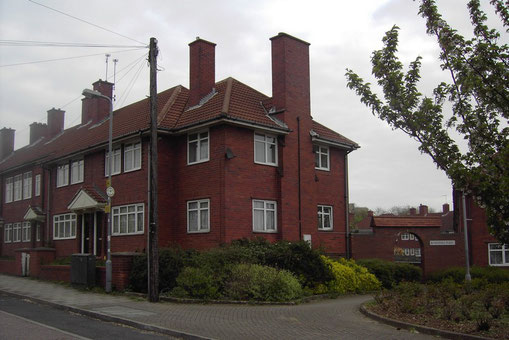 Post-war redevelopment

Before the Second World War the City Council was acutely aware of the need to rehouse families living in unacceptable conditions, but there was a desperate shortage of affordable land. A number of plots within the city limits, such as this one, were bought to build small-scale developments.
Although there was a desire to rebuild at a lower density, financial constraints meant that houses such as these were not built as traditional houses but as two-storey maisonettes. The estate was opened by the Prince of Wales, the future Edward VIII in 1934.

The lay-out of the estate is interesting: the houses are laid out on blocks around central courts rather in the style of almshouses. The families who were rehoused on the Ashcroft Estate mainly came from the slum clearance areas around Summer Lane in Newtown, and the lay-out of the estate was an attempt to foster the development of close-knit communities such the ones the newcomers had left.

See also Ashted.
William Dargue 02.09.2008/ 30.07.2010