William Dargue  A History of BIRMINGHAM Places & Placenames from A to Y
Plants Brook
B76 - Grid reference SP143920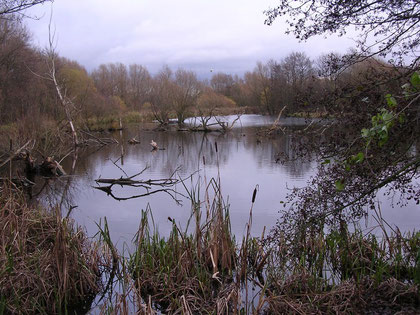 Off the Kingsbury Road near Forge Lane is Plantsbrook Nature Park, the site of the 18th-century Plants Forge. Access to the park is gained off Eachelhurst Road opposite Pype Hayes Park.
The forge replaced the original corn mill in 1727 and was used by Joseph Webster from 1760 to supplement his Penns Mill wire making production.
See Penns.
In 1855 Webster's went into partnership with James Horsfall of Birmingham. Production at Penns Mill and Plants Brook was abandoned four years later being transferred to Hay Mills where it is still carried on.
 
Plants Brook is the name of the stream that feeds the reservoirs. (Towards Sutton Park, where the stream has its source, it is usually known as East Brook or Ebrook.)
Plants Brook was also the name of a tiny hamlet here which is listed in the 1841 Census. There were just two houses and both were occupied by members of the Hiley family. Both heads of households were wire drawers as were two of the sons. The 1861 Census shows that they had moved with the factory to Hay Mills.
 
From the 1860s the pool was converted to reservoirs with filterbeds on site for public water supply and by 1880 a water-pumping station had been built on the site. The site was abandoned by the end of the 19th century and the reservoirs returned to nature. During World War 2 the lakes were used to test torpedoes and amphibious vehicles. In 1978 the pools were drained for landfill, but vigorous local campaigning led to the City buying the site which was opened as a local nature reserve 1985. The park is managed by the Urban Wildlife Group. A number of habitats are preserved here including woodland, wetland and wildflower meadows. Boardwalks provide excellent access across usually inaccessible water and marsh.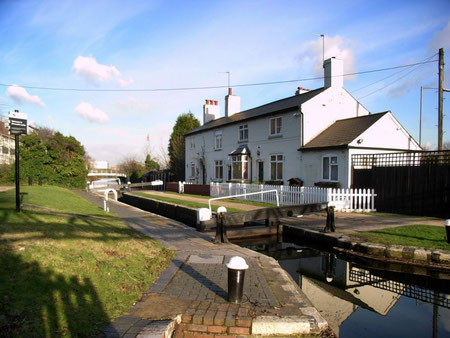 The Birmingham & Fazeley Canal was opened in 1789 linking Birmingham to Fazeley Junction on the Coventry Canal. This gave access to London via the Oxford Canal. Originally known as the Birmingham and Birmingham & Fazeley Canal it is 25 km in length and was engineered by John Smeaton. There are 38 locks on the canal, 24 of them from Birmingham to Salford Junction. This became a very busy route; by 1841 157 boats a day were using the canal. A toll house stood on the canal near Tyburn Bridge and survived until c1955.
On the stretch near Plants Brook two of the three Minworth locks are to be found; the lock keepers are named in the 1841 Census as Job Horton and Benjamin Jones (One of them probably lived at Minworth bottom lock close to Minworth village). Still standing at the top lock is the lock-keepers cottage which is lived in. The water from the reservoirs fed by Plantsbrook acts as a feeder for the canal.
See also Pype Hayes.
William Dargue 22.01.2009/ 01.08.2010