William Dargue  A History of BIRMINGHAM Places & Placenames from A to Y
Pest Heath/ Pest Ground
B16 - Grid reference SP050866
The Great Plague of 1665 was believed by Birmingham's first historian William Hutton to have come from London to the town in a box of clothes brought by a carrier who stayed at the White Hart Inn in Digbeth. The disease would have spread rapidly in the densely built-up town. Houses struck with the plague were closed, marked with a red cross and the victims, allegedly, were buried outside the town on wasteland at Ladywood Green. This lay south of Ladywood Road, on a housing development of the 1960s known as Chamberlain Gardens.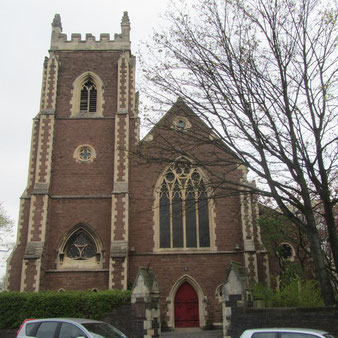 This land was later known as the Pest Ground or the Pest Heath, and lies close to the later site of St John's Church. However, when the site was developed for housing in the mid-19th century no record or evidence of burials was reported. The name, then may have been a misnomer. Evidence from London suggests that plague victims were normally buried in the the local churchyard. In exceptional times the parish would buy land where available, sometimes outside the parish itself and the dead would be buried in consecrated ground there. But it was not until Hutton's time in the late 18th century that St Martin's churchyard was literally full to overflowing.  
To add to the mystery: no evidence has been found in local parish registers or in county records of a sudden increase in death rate. The plague may have followed the route of Watling Street, thus by-passing Birmingham and Coventry. Hutton was writing over a hundred years later and his account may record a memory of one of many earlier outbreaks; there were plagues in 1631 and 1637, for instance.
The origin of the name, therefore, remains unexplained.

See also Ladywood.
William Dargue 04.04.2009