William Dargue  A History of BIRMINGHAM Places & Placenames from A to Y
Chamberlain Gardens
B16 Grid reference SP049862
First record c1960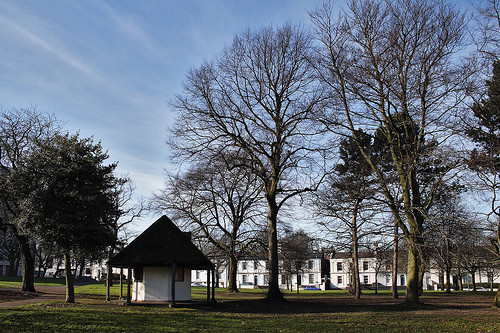 Chamberlain Gardens is a council estate in Ladywood between Ladywood Road and Monument Road. Built largely to the design of Birmingham City Council's architect A G Sheppard-Fidler during the first half of the 1960s, the estate retains the large number of trees which belonged to the earlier Victorian houses, some of which were very large and built on large plots.
Some of the smaller though still substantial Victorian houses still stand along Monument Road. The estate, which is dominated by 10 high-rise blocks, also has a number of low-rise maisonettes which are set within a wide area of landscaped open space with tennis courts and children's playgrounds.
The Hawthorns (demolished) was a very large house which stood at the junction of Ladywood Road and Monument Road. It was built c1828 by R W Winfield, an early brass manufacturer whose works in Cambridge Street was noted for the variety of ornamental brass products, gas-fittings and especially bedsteads.
The works eventually employed up to a thousand people and was in its time the biggest factory in the town. Winfield went on to become a magistrate, served in the office of High Bailiff and was appointed a member of the Peace Commission. Winfield was also known for the evening and Sunday school he provided for his young workers near his factory with attendance of up to 250 pupils.
Eliezer Edwards wrote of his recollections of The Hawthorns as it was in 1837:
The neighbourhood was then entirely open, and from his [Winfield 's] house to his manufactory was a pleasant walk amid fields, through the noble avenue of elms that led to Ladywood House and Vincent Street bridge, and from thence by the bank of the canal to the Crescent. I often walked to town in his company, and admired with him the gorgeous apple blossoms of the trees in the valley now filled up by the railway.
The estate is named after Birmingham's mayor, Joseph Chamberlain 1836-1914.
William Dargue 09.01.2010/ 01.08.2010