William Dargue  A History of BIRMINGHAM Places & Placenames from A to Y
The Convention Quarter
B1 - Grid reference SP061867
First record c2000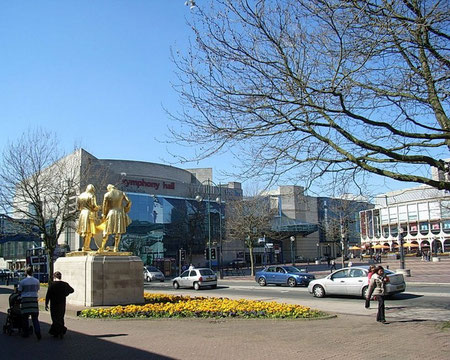 The Birmingham Convention Quarter is a district in the City Centre encompassing a large area between the Ladywood Middleway and Broad Street. It is part of the City Council's initiative to extend the area of the City Centre.
The Quarter is focussed on the International Convention Centre, the ICC, a major conference venue which was opened by the Queen in 1991. Built in an area of late-20th-century decay, the ICC stands on the site of the Prince of Wales Theatre and Bingley Hall, an early purpose-built exhibition hall which opened in 1850.
The complex has eleven halls, a variety of smaller conference suites and includes Symphony Hall, home of the CBSO, the City of Birmingham Symphony Orchestra. The main entrance faces Centenary Square; there is another entrance leading to the Birmingham canal.

Between Broad Street and the canal is Brindleyplace, a major development of office blocks, public open spaces, restaurants, bars and shops which opened shortly after the ICC. And close by, built as part of the same development is the NIA, the National Indoor Arena, a setting for a wide range of sports and entertainment events.
Click to enlarge images in the Gallery below.
William Dargue 02.11.2008/ 01.08.2010