William Dargue  A History of BIRMINGHAM Places & Placenames from A to Y
Cat Hill
B76 - Grid reference SP138929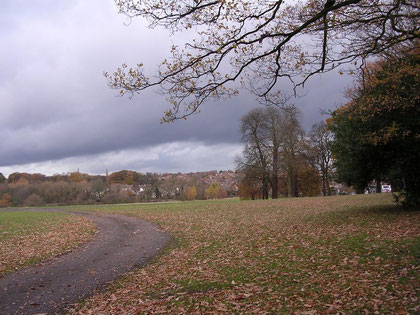 Cat Hill rises from the Plantsbrook valley up to Walmley village. It appears on the 1895 Ordnance Survey map and was the name given to the mid-20th-century estate of private housing built around Plants Brook Road. During the building work in Rosslyn Road a Roman coin was found.
The 1889 Ordnance Survey map shows a couple of dwellings at the top of Eachelhurst Road and a small cluster along what is now Parkhill Road. The 1841 Census records that all the heads of households and a number of the sons were employed as wire drawers. They either worked at Joseph Webster's Penn's Mill nearby, or at his Plantsbrook Forge. In 1859 production was transferred to Hay Mills and the mills here were closed. In the 1861 Census the Dunn family are to be found at Hay Mills.
The 1891 Census shows the majority of the houses occupied by agricultural labourers.

Cat Hill is not an uncommon placename in England with records of its use dating from the 13th century. The name is likely to refer to wild cats, a distinct species of undomesticated cat and completely untameable.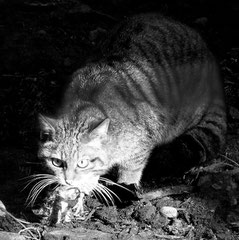 Rarely seen, they are shy of humans and hunt their prey, rabbits, hares and small mammals, at dawn and dusk. They are solitary, territorial creatures and live at population densities of only one cat to an area of 3 square km in favourable conditions and much less in less favourable areas. In severe winter weather cats have been known to come closer to human habitation, perhaps preying on domestic fowl. If cornered they can be extremely fierce.
The species gradually became extinct across England as forest cover disappeared from the Middle Ages onwards. They were extinct in southern England by the 16th century and in the Midlands shortly afterwards. Although not especially hunted for sport, wild cats were fair game for hunting parties. It is believed that the last English wild cat was shot in Northumberland in 1849; some 400 survive in Scotland north of the industrial belt.
Wild cat photographed by Donald Noble in Highland Wildlife Park, Kincraig. Downloaded from Flickr and reusable under Creative Commons Licence Attribution-Non-Commercial-Share Alike 2.0 Generic. 
William Dargue 22.10.2008/ 01.08.2010