William Dargue  A History of BIRMINGHAM Places & Placenames from A to Y
Camomile Green
B17 - Grid reference SP020843
This picturesque name, which is no longer used, referred to a green near Harborne at the junction of Tennal Road and Queens Park Road. By 1834 it was recorded on the 1st Edition Ordnance Survey map which shows a tiny rural hamlet here.

Wild chamomile is a low-growing common annual with daisy-like flowers which is found on cultivated ground and by waysides. Its name, which derives from Greek via Latin and Old French, means 'ground apple' so-named from its sweet scent when crushed. Used as a medicinal herb for hundreds of years, chamomile may be drunk as an infusion and is found in modern cosmetic products. Presumably it grew here in profusion.

However, the hamlet was known in the 19th century as a centre of nail making, an additional occupation to agricultural labouring when the weather prevented work on the land. The whole family would be involved especially in winter, working at the forge built at the side of their cottage. Nail-making was a poorly paid occupation, but essential to the income of many families on this side of the city.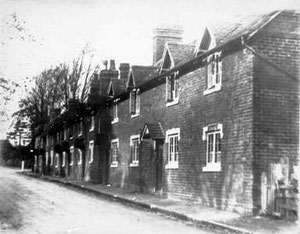 Harborne Once Upon a Time
Tom Presterne wrote in 1913:
The row of cottages at Camomile Green were occupied by nailmakers. Nearly every cottage had its workshop. Nailmaking was the chief occupation during the winter. In summer the work people turned to the fields . . . .

These nailmakers, the men and the women, worked very hard during the first five days of the week, from early morning till bedtime. On Saturday morning each man would trudge off to town with the stock of nails he had made during the week. He would then carry them - a very heavy weight sometimes - In a coarse sack over his shoulder to his employer. On his return he would carry the bundle of iron on his shoulder for the next week's work. This was in my day. Before this time they were employed chiefly by the nail masters of the village, who had factors or middle men (nail-foggers they were called) to transact their business with the work-people. 
Tom Presterne 1913 Harborne Once Upon a Time
There were a number of nailmasters in the Harborne area including the Rutters, father and son. John Rutter of Camomile Green and his son, Thomas of Camomile House are variously listed in directories of the mid-19th century as farmers and nail manufacturers. From the middle of the 19th century nail-making as a cottage industry was in decline being overtaken by industrial-scale production.
William Dargue 16.10.2008/ 07.09.2012