William Dargue  A History of BIRMINGHAM Places & Placenames from A to Y
Chad Valley
B17 - Grid reference SP046852
Fondly remembered now by children of a certain age, the name Chad Valley was taken from the Chad Brook. Ordnance Survey maps from the late 19th century show Chad Valley north of the Harborne Road crossing of  the brook at Brook Road.
This small stream which runs from Harborne through Edgbaston to the River Rea, is possibly named after St Chad. The fifth Bishop of Mercia lived from 669 AD at Nether Stowe in Lichfield and was instrumental in uniting the existing Celtic and newer Roman Christian traditions of the Church in England. Although bishop for only three years, after his death on 2 March 672, his tomb at Nether Stowe became a place of pilgrimage. From 700 his shrine was transferred to the newly-built Lichfield Cathedral until the outbreak of Civil War when his bones were hidden from the Puritans. Regarded as the Apostle of the Midlands, his bones now rest in St Chad's Roman Catholic Cathedral in Birmingham.

It is, however, more likely that the name of the Chad Brook derives from medieval term shadwell meaning a 'shallow boundary brook'.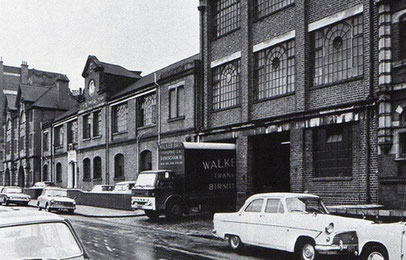 Chad Valley toys
However, Chad Valley is not so much a placename as a registered trademark. The name derives from the factory of the Johnson Brothers'  toy company originally founded c1820 by Anthony Bunn Johnson. His sons, Joseph and Alfred set up Johnson Brothers in 1860 as stationers, printers and bookbinders in George Street, Harborne. Under Joseph and his son Alfred J the firm moved to the new Chad Valley Works in 1897 where they moved increasingly into producing board games and a widening range of toys, including by 1915 quality teddy bears.
The Rose Road factory was extended in the 1920s and the company became known as Chad Valley Toys. During World War 2 the factories were used to make parts for anti-aircraft guns, auto-pilots, hospital tables and tent poles, although items such as jigsaws, chess sets and dominoes were still made for use by the armed forces and military hospitals.

After the war the Chad Valley company bought several other toy firms, but ran into financial trouble in the 1970s, The Harborne factories were closed when Leicester-based Palitoy bought the firm in 1972. In 1988 the chainstore Woolworth's bought the Chad Valley trade mark and actively promoted the brand until its demise, when the brand was taken over by Argos now owned by Sainsburys.
William Dargue 03.11.2008/ 11.11.2020