William Dargue  A History of BIRMINGHAM Places & Placenames from A to Y
California
B32 - Grid reference SP016829
First record c1850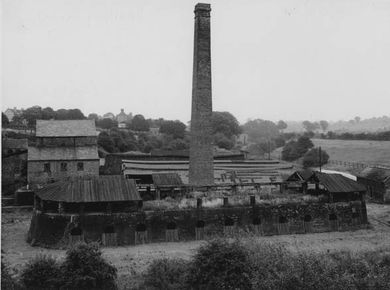 A village of brickmakers
Isaac Flavell was born in Gornall in 1792 and is said to have emigrated to America to make his fortune. It is said that he returned from the USA having struck lucky in the California Gold Rush and was known as 'Major' Isaac Flavell, In 1842 he bought Stonehouse Farm in Stonehouse Lane and there he set up a brick-making business. 
The 1890 Ordnance Survey map shows large claypits around the junction of Stonehouse Way and Barnes Hill, a sandpit just north-east of Weoley Castle, and Stonehouse Farm/ Brick Works south-west of the junction of California Way and Stonehouse Hill; there are two other brick works shown just south of here around Ullswater Close.  In the mid-1840s Flavell was involved in digging for coal in what is now Woodgate Valley Country Park.
The attraction of this site was not only the abundance of clay and sand, but also its proximity to the Birmingham-Dudley No.2 Canal which ran east-west between Stonehouse Farm and Weoley Castle. In 1923 California was still described as a 'village of brickmakers'. The last brickworks closed in the 1950s.

Flavell later built the California Inn from which the district took its name. The inn stood on the east side of Barnes Hill above the east portal of the Lapal Canal which had been opened in 1798. Flavell's brother-in-law was Henry Chinn who farmed 165 acres/ c70 hectares nearby and employed 50 workers. It is likely that Chinn supplied the barley for Flavell's brewery. This pub was closed and demolished in the 1930s and a new one opened at the north end of Barnes Hill immediately after Alwold Road. A petrol station now stands on the inn site.

Also on Stonehouse Lane stands the Stonehouse, the east part of which is built in Elizabethan brick. The west part is even older. Built of local sandstone with walls over a metre thick, it may have been the base of a medieval watchtower. A small number of farms in Birmingham were named stone houses because stone as opposed to timber was a fairly unusual building material in these parts. Outhouses were later made of stone taken from the ruined Weoley Castle.
Click to enlarge the images below.
Left: California clay pit photographed by W J Harrison in 1896 - image from the British Geological Survey website, Geoscenic used in accordance with their terms and conditions.
The others show Smart's Brickworks, Stonehouse Farm and the Lapal Tunnel and are reproduced with kind permission from King Edward VI Five Ways School Local History Digital Archive. 
William Dargue 15.10.2008/ 31.08.2012