William Dargue  A History of BIRMINGHAM Places & Placenames from A to Y
Potters Hill
B6 - Grid reference SP071890
The manor of Aston lies on an east-west ridge of higher ground between Hockley Brook (aka. The Bourn/ Aston Brook) to the south and an unnamed tributary of the River Tame to the north; both brooks are now culverted beneath the streets. On a high point at the east end of the ridge stands Aston Hall.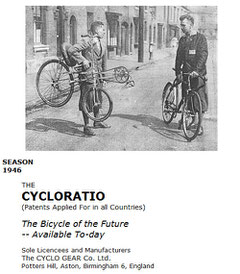 Potters Hill is the hill which rises up northwards from Potters Lane near Newtown. Potters Hill was a also streetname, now gone, which ran west of Selston Road until the housing redevelopments there from the mid-1960s. The name is taken from the 18th-century Potter family whose farm, Potters Farm lay just north of Park Lane.
Potters Hill was later the site for an innovative bicycle manufacturer in the mid-20th century whose Cycloratio was designed to accommodate the rider in a natural semi-reclining position with an even distribution of the rider's weight. 
Image left from the Cycloration brochure of 1946 reproduced from the Canberra Cycle Museum by Henry Thomas to whom my thanks. See Acknowledgements for a link to Henry's Jetrike website.
William Dargue 04.04.2009/ 07.09.2012