Tile Cross/Tyle Cross/ Tylers Cross
Tile Cross B33 - Grid reference SP163871
Tyle Cross: first record 1725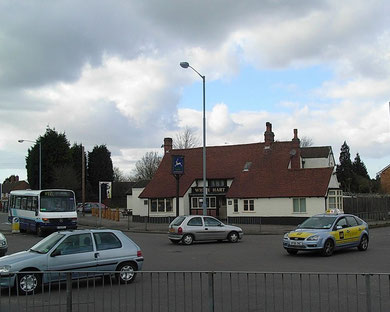 A cross is shown on an Henry Beighton's 1725 map of Warwickshire at Tyle Cross or Tylers Cross at the junction of Cooks Lane with Tile Cross Road. Presumably tiles were made here using the plentiful local clay. A stone cross or market cross may have stood here. Tile Cross Farm Farm stood west of the White Hart Inn until 1952 when the house building programme got under way.

The modern district, which now lies in Birmingham on the boundary with Chelmsley Wood and Marston Green in Solihull MBC, was built up after World War 2 and lies largely west of Tile Cross Road.
At this junction is the White Hart public house, much altered over the years, but with an original 17th-century timber-framed construction at the heart of it.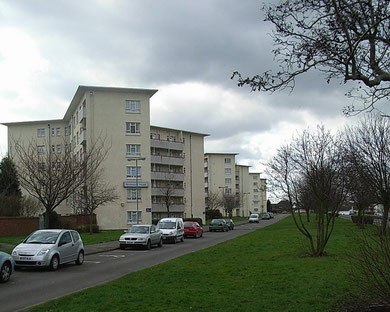 In the 1950s five 6-storey blocks were built along Tile Cross Road and into Shirestone Road. Built in a Y-shaped design of the building firm Wimpeys with five flats per floor, they had communal balconies, communal waste-disposal chutes and were all provided central heating from a single source. They were built with a garages and individual gardens close by. The same design can be found on other municipal estates across the city.
Well worth a visit - Sheldon Hall.

On Gressel Lane Sheldon Hall, now a pub and restaurant from the late 1990s, is an early 16th-century timber-framed manor house which was rebuilt from an earlier house by Sir Edward Digby of Coleshill Hall for his son. It has red and black brick wings added c1600. It is a typical Warwickshire manor house rebuilt on the site of its 12th-century predecessor and partly on its moat.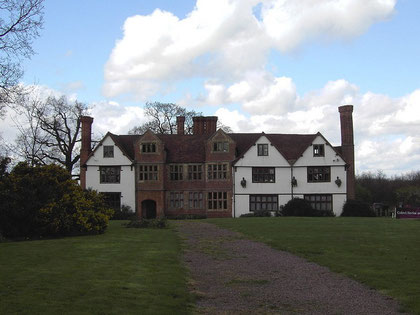 The medieval building replaced the original Anglo-Saxon manor house which probably stood on the site of Mackadown Farm (demolished after 1950) just north of  the junction of Mackadown Lane and Tile Cross Road.
There is an arched stone entrance to the porch and c1600 brick chimney stacks; inside the timber-framed partition has survived as have 16th-century fireplaces and early 16th century moulded beams. Medieval pottery has been excavated on the site.
William Hutton visited the hall before 1783:
Sheldon-hall anciently bore the name of East-hall, in contradistinction from Kent's-moat, which was West-hall. This, in 1379, was the property of Sir Hugh le Despenser, afterwards of the family of Devereux, ancestor of the present Viscount Hereford, who resided here till about 1710.
In 1751, it was purchased by John Taylor, Esq; and is now possessed by his tenant. The moat, like others on an eminence, has but one trench, fed by the land springs; is filled up in the front of the hall, as there is not much need of water protection.
The house, which gives an idea of former gentility, seems the first erected on the spot; is irregular, agreeable to the taste of the times, and must have been built many centuries. All the ancient furniture fled with its owners, except an hatchment in the hall, with sixteen coats of arms, specifying the families into which they married.
William Hutton 1783 An History of Birmingham
This Tudor/ Stuart hall is a Grade II* Listed building. See also Sheldon and Kents Moat.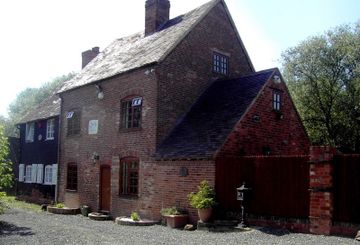 Off Gressel Lane is Babbs Mill which was powered by the River Cole. Named after its owner, John Babb who died in 1651, there is a surviving timber-framed brick-clad millhouse which is Grade II Listed and the keeper's cottage which probably dates from the 18th century. This was originally the Sheldon manorial mill associated with Sheldon Hall. The mill closed in 1914 and the buildings are now a private residence.

The leats and large millpool survive within a pleasant park area with access to walkways along the River Cole to Chelmsley Wood and Bacons End to the east and to Shirley to the west. The course of the River Cole has been altered here but its original course can often be made out.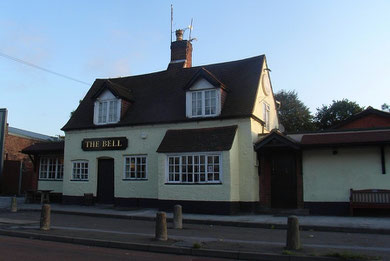 The Bell Inn has been dated as 1668 and has given its name to the lane which leads to Marston Green from Mackadown, the original settlement of Sheldon, and from Sheldon Hall known as East Hall (in contrast to Sheldon's West Hall at Kents Moat). The bridge over Kingshurst Brook here is marked on the First Edition OS map as East Hall Bridge, and probably the responsibility of the lord of the manor.
Prefabs
Because of the housing shortage caused by bomb damage during World War 2 a temporary housing programme was set up towards the end of the war to co-ordinate the provision of prefabricated houses. The buildings, , soon nicknamed 'prefabs', were made in sections in a factory and then brought to be assembled on site, often on the edges of parks.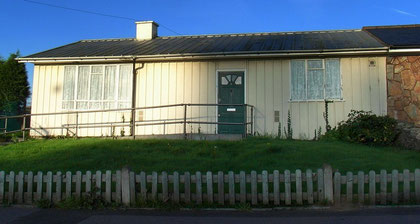 They were simple and compact, but well designed with built-in storage. The two-bedroom houses had a fitted kitchen with a cooker and fridge, a wash boiler and hot water. They had electric lighting and sockets, a toilet and bathroom, commodities that many people from poor inner-city districts had only ever dreamed of. With no irony, they were dubbed 'palaces for the people'.
Some prefabs were steel-framed and clad with asbestos cement. One such from 85 Moat Lane, Yardley has been dismantled and re-erected at the Avoncroft Museum of Buildings. Some were made of aluminium, while others were built around a timber-frame and clad with asbestos cement.
By 1948 over 4500 prefabs had been built and intended to have a 15-year life span. In the 1960s moves by the council to demolish the prefabs and rehouse the tenants were opposed by many residents.
However, by 1980 all but a few had gone. A row of prefabs on Wake Green Road were Grade II Listed in 1980. Some two dozen pairs also survive in Leycroft Avenue, Tile Cross, many now in private ownership and considerably altered.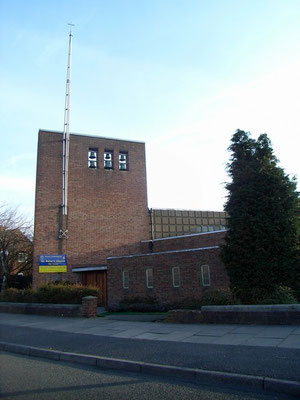 St Peter's Church in Haywood Road was built in 1968 replacing an earlier mission hall. The tower is wide and high and has a slender metal spire attached. Six bells are hung in two rows near the top of the tower. The bells are thought to have been cast using metal from redundant bells elsewhere, including St Matthias' Aston and St Cuthbert's Winson Green. They are rung from an Ellacombe manual on the gallery at the back of the church.  
See also The Mackadown.