Tinkers Farm, Quinton
B68 - Grid reference SO994849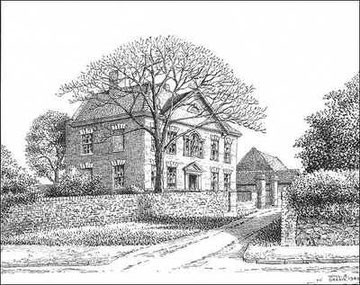 Tinkers Farm on the Hagley Road at Quinton was a large handsome Georgian house which was demolished in 1940 and replaced with The King's Highway Hotel. This closed c2007 and was subsequently replaced with a supermarket and coffee shop.
In the late 1930s land at Lewis Road was developed as a private housing estate known as Tinkers Farm estate.
Before and into the industrial age a tinker was a travelling worker who mended metal household objects, pots and pans, etc. It is also a surname.
Left: 18th-century Tinkers Farm, demolished in 1940, and The King's Highway Hotel built on the site - drawn 1940. My thanks for the use of this image to E W Green, Historic Buildings in Pen & Ink - The Work of William Albert Green. 
William Dargue 04.03.09/ 16.01.2021