The Tyburn
B24/ B35 - Grid reference SP135913
First record 1730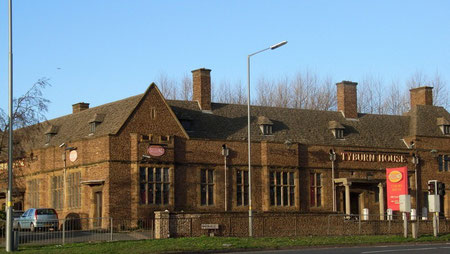 Dating from c1730, the name was taken from London's Tyburn, a place of execution from Norman times until the late 18th century. The implication is that this too was a place where a gallows stood.
Certainly the Chester Road from here beyond Sutton Park Park had a reputation for highway robbery. Even in the Middle Ages the Earl of Warwick, who was lord of Sutton manor felt obliged to provide a stone cottage, Bow Bearers Lodge, for two retainers to escort travellers across Sutton Chase of which this area was then part. The lodge survived until it was demolished in 1828; Bowcroft Grove is a modern road on the site of a field called Bow Bearers Croft. (See also Gibbett Hill.)

The Tyburn is the junction of Chester Road and Kingsbury Road by the public house of the same name. Originally the Tyburn Road went from Bromford Lane to its junction with Kingsbury Road and no further; thus it was the road to Tyburn and not the road at Tyburn.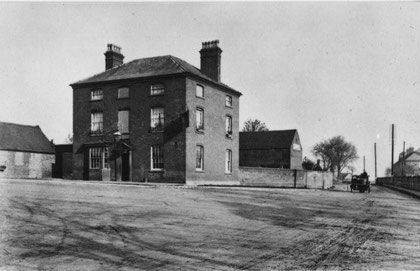 The Birmingham & Fazeley Canal passes under the Chester Road next to the Tybun House public house. The canal opened in 1789 from Farmers Bridge Junction on the Birmingham Canal. The latter had been cut twenty years earlier initially to bring coal to Birmingham from the Black Country. Originally known as the Birmingham and Birmingham & Fazeley Canal, it runs to Fazeley Junction near Tamworth on the Coventry Canal with access to London. This became an extremely busy route with daily counts of 150 boats a day being not unusual. A canal toll house survived at Tyburn Bridge until 1955.

The Tyburn Road was extended in 1920s with the building of Pype Hayes estate to meet the Chester Road ¼ mile north of the Tyburn junction.

Tyburn House was actually the Three Tuns Inn, It was a large plain Georgian building built before 1817, almost certainly to capitalise on the turnpiking of the Chester Road in 1759. The Broughton-Chester-Stonebridge Turnpike was an important route past Birmingham which linked London via Coventry and Stonebridge to the port of Chester.
In 1930 the inn was demolished and the new Tyburn House was rebuilt in stone in a Tudor style by Birmingham architect C E Bateman. It is a low long building with an appearance reminiscent of the Cotswolds, one on its own in Birmingham.
William Dargue 02.03.09/ 30.07.2010