Tower Hill
B42 - Grid reference SP056929
Tower Hill near the junction of Tower Hill and the Walsall Road is a name of unknown origin; it may be named from the manor house, Tower Hill or vice versa. This is recorded in 1559 leased by the Holden family to a lorimer (a maker of the metal parts for horses' harnesses), Henry Wallixall and sold freehold to Roger Stanford in 1659 and which is shown on the 1884 Ordnance Survey map.  This may have been the same house which was called Little Barr Hall in 1418; Parva (Little) Barre later became known as Perry Barr.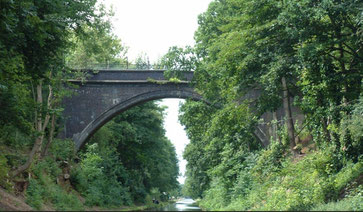 The name as currently used derives from Tower Hill Farm, which stood just north-west of the Tame Valley Canal cutting, on whose land an estate of private housing was built from the 1930s to the late 1950s.
The road from the Walsall Road down to Rocky Lane where the manor house stood is known as Tower Hill. It is cut by the Tame Valley Canal (1844) and the bridge is now impassable over the canal except by pedestrians and cyclists. 

William Dargue 04.03.09/ 26.07.2015