Thimble End
B76 - Grid reference SP140941
North of Walmley in Sutton Coldfield is Thimble End. The farmland here was enclosed by 1820 into regular rectangular fields. The 1891 Census lists only eight families living here; there were agricultural labourers, a baker, a carpenter, a gamekeeper, a wagoner, a wheelwright, and the owner of a brassfoundry in the centre of Birmingham.
The 1889 Ordnance Survey map shows no village centre only scattered settlement. The first housing development here dates from after the Second World War; there was further building during the 1970s and again in the early years of this century. Significant areas of open land have been left for public access.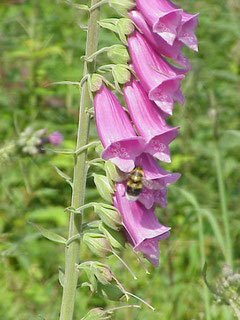 This is a fairly common placename - there was a Thimble Mill on Aston Brook known from Tudor times; there is another in Smethick. However, the origin of the name is uncertain.
The name may derive from an association with foxgloves. Known popularly as fairies' or witches' thimbles, this summer-flowering biennial is found in oak wood clearings and at the woodland edge. Long used by country folk as an infusion to stimulate the heart, the properties of digitalis were revealed to science by Dr William Withering of Edgbaston Hall in 1775.
When Withering was unable to offer help to a patient with a serious heart condition, he was cured by a gypsy's potion which Withering later discovered contained foxglove leaves.

However, it may be from Old English thymel, which means 'a thimble' and could refer to the shape of the hill; Thimble End does stand on a ridge, though hardly as pronounced as the shape of a thimble. The intermediate 'b' in such words appeared during the 1400s. In Yorkshire it is still not not heard in words such as 'thimble' which is pronounced thimm'l.
Above: Foxglove/ Digitalis purpurea. Image from Wikipedia with permission granted for reuse by Kurt Stüber's Online Library. 
William Dargue 04.03.09/ 01.08.2010