Town End
Town End B21 - Grid reference SP045906
First record 14th century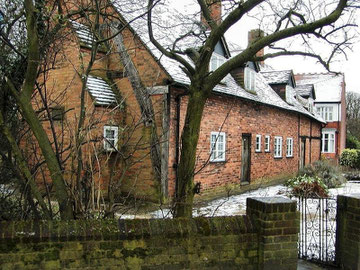 In the Middle Ages Town End was of the medieval administrative districts of Handsworth. The name may simply derive from the Old English word tun meaning a farm or settlement. Handsworth's Old Town Hall is probably named from the district.
Standing in Slack Lane, this is a 16th-century cruck-framed house is Grade II Listed. It consists of three bays, each divided by a cruck truss. Cruck-framing was an old technique of building of which few examples survive in the Birmingham area. It involved sawing a tree, usually oak, lengthways and leaning the two halves against each other to form an arch.

Handsworth Town Hall dates from before 1500 and served as village jail and workhouse. In the 17th century a brick chimney was built, some external plasterwork was infilled with brick and the first floor was constructed within the building.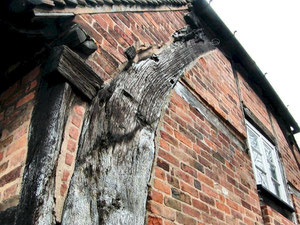 Due for demolition as a slum, it was bought by the Birmingham Archaeological Society, modernised to form two separate dwellings and given to the City in 1947.

One of the dwellings subsequently became a museum which is managed by the Handsworth Local History Society. It name has no connection with a town hall in the modern sense; it means rather 'the hall at the old town/ village'.
Right: Handsworth Town Hall - part of the cruck frame. Reproduced with the kind permission of the late Keith Berry.