Trittiford/ Titterford
B13/ B14/ B28 - Grid reference SP099799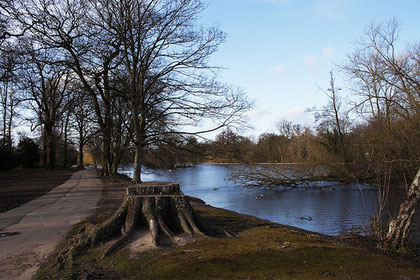 Trittiford or Titterford Mill stood near Highfield Road on the River Cole taking its water power from that river and supplemented by Chinn Brook. First recorded in 1778 as a corn mill, it was probably the last mill to be built on the Cole.
It was advertised to let in 1783 when it was described as having two waterwheels, four stones for corn-grinding and garners sufficient for 2000 sacks of wheat.

The mill converted to metal rolling c1849 using machinery from Sarehole after that mill had reverted to corn. In the later 19th century Titterford capitalised on the booming Birmingham pen industry producing steel nibs with a steam engine supplying extra power.
Also attached to the mill were extensive farm buildings, the large three-storey farmhouse having broad bands of Yardley tiles in two shades of red, a local fashion.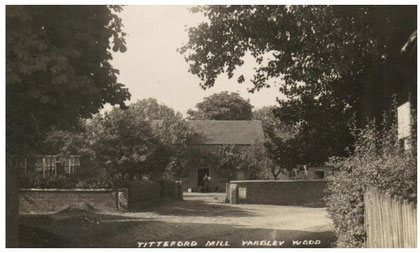 The mill ceased work in 1914 and the building was demolished after a fire in the 1920s when the park was being laid out. However, the head race and tail race survive, while the large mill pool was kept as the lake in Trittiford Mill Park. Traces of the mill leats may be seen in vegetation marks especially during a dry summer. Trittiford farmhouse was demolished after 1937.

The mill had been built close to an ancient fording place whose Anglo-Saxon name means 'Titta's' or 'Tyda's ford'. This ford was certainly used in Anglo-Saxon times and is probably prehistoric, being part of the ancient ridgeway to Stechford, and later the churchway to the parish church at Yardley.
In the early 19th century a road bridge was built alongside which subsequently caused the ford to disappear under deposits of silt. Just before the outbreak of World War 2, earth ramps for a new bridge were raised. However, it was not until 1990 that the new Trittiford bridge was finally completed.

The open public space along the river and around the lake was the first section of the Millstream Way to be opened on 1923. This is a linear public open space along the River Cole from here to the Coventry Road at Hay Mills, and subsequently to Chelmsley Wood.

See also Sarehole and Yardley Wood.
William Dargue 04.03.09/ 31.07.2012