Timberley
B34/ B36 Grid reference SP156892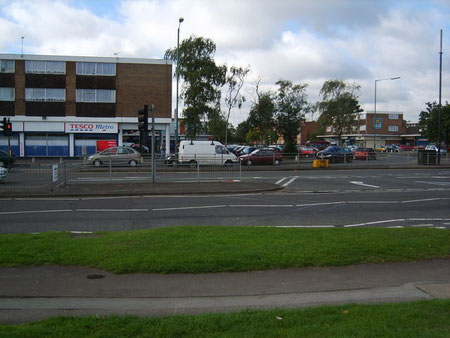 Timberley is a common name across the country and derives from the medieval timber leah meaning simply 'timber clearing'. The word timber could mean trees, or wood as a building material, or it could mean a building made of timber.
By the 18th century the word was used as a legal term to describe mature woodland, primarily of oak, ash or elm which formed part of a freehold inheritance. Presumably in medieval times this was a cleared area, but with woodland set aside for growing timber intended for building purposes.

The site lies in the south-east angle of the Chester Road/ Timberley Lane junction. A farm known as Timberley House stood here probably from the 17th century or earlier. By the end of the 19th century it had become a large residence, typical of a number in that rural district at the time.
The house was replaced in the 1940 by The Castle Cinema to cater for the entertainment needs of the growing urban district of Castle Bromwich. The cinema closed in 1963 and was replaced by Castle Bromwich shopping centre.
William Dargue 19.10.08/ 16.01.2021
For 19th-century Ordnance Survey maps of Birmingham go to British History Online.
Map below reproduced from Andrew Rowbottom's website of Old Ordnance Survey maps Popular Edition, Birmingham 1921. Click the map to link to that website.