Tenchlee/ Tenchley
B27 - Grid reference SP124845
The name Tenchley seems to derive from Middle English tench leah meaning 'tench (ie. the fish) clearing'. Until supplanted in popularity by the carp in the 16th century, tench with bream, eels, pike and roach, was a popular edible fish in the Middle Ages.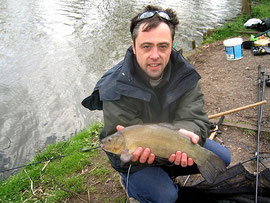 Tench will happily thrive in muddy weedy ponds with low oxygen content and will exceptionally grow up to 70cm in length and up to 7kg in weight.
In the Middle Ages fish were an important part of the diet, particularly on Christian days of abstinence when meat was not permitted eg. Fridays and during Lent. They were caught in rivers and farmed in fishponds. Freshwater fish cost more to buy than sea fish, because farming them was a slow process with a low yield. However, fish were farmed usually to meet the needs of the producer, be they monastic or lay, and were not generally bred for sale.

FISH STEW (Trout, Carp, Tench &c)
Draw them and scrape them well, wash them in White-wine, then smeer them over with a piece of Sweet Butter, and lay them orderly in a Stew-pan, putting in as much water as will cover them above an inch, with a little Salt, a bundle of sweet herbs, and some blades of Mace, take them up, and make your Sawce of beaten Butter, Claret, yolks of Eggs, and Sugar.

from The Whole Duty of a Woman or a Guide to the Female Sex, from the age of sixteen to sixty &c. 1735
written by a Lady

However, the name appears in 1275 as Tenelee, in which case it may actually derive from the Old English tien leah meaning 'ten clearing', perhaps a clearing in this forested area of ten fields.

Probably founded as a daughter settlement of Yardley, Tenchley's field system was at South Yardley north of the present centre of Acocks Green. The earliest open field of Tenchley was Heyne Field (ie. 'high field'), later known as Stock Field. This lay between Stockfield Road and Yardley Road. The second field, Over Heyne Field (ie. 'upper high field') lay to the east of this and was later known as Acocks Green Field. And the most recent field was Nether Heyne Field ('lower high field'). Yardley Road probably began as a field perimeter track and eventually became the established route between Acocks Green and Tenchley. All the open fields of Yardley manor, which included Acocks Green, were finally enclosed in 1847.

Where the settlement of Tenchley was is uncertain; evidence suggests that it may have been around the junction of Yardley Road with Stockfield Road. This theory is strengthened by the fact that there was a pinfold here into the early modern period for farmers to reclaim lost livestock.
Whether or not the settlement was named after the fish there may have been a man-made pool at the confluence of three brooks dammed by a causeway along which Clay Lane now runs. The pool dried out and became Deep More, a medieval name meaning 'deep bog'. During the 19th century it was used a sewage farm by Yardley Council, taking waste from Acocks Green and South Yardley.

The name of Tenchley had fallen out of use certainly by the 18th century.