Ten Acres
B29 - Grid reference SP056817
Ten Acres was a 19th-century housing development which took its name from a field on the Pershore Road north of Dogpool Lane. The name fell out of use, but was revived again for new building at the end of the 20th century. Ten Acres is part of Stirchley.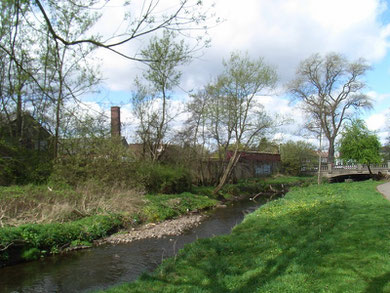 Dogpool Mill was one of many mills on the River Rea. The date of its foundation is unknown but it was probably built for grinding corn. By 1740, in common with a number of other local mills, it was a blade mill.
By 1836 it had been converted to a rolling mill metal and in 1863 Tomlinson & Co were using the premises for tube-making and wire-drawing. By 1875 the mill premises were being used for making copper and brass products by C Clifford & Sons, who were to remain here for over a hundred years.
As the area built up in the 1920s and with easy access from Birmingham by train or tram, Dogpool's mill pond was turned over to a boating and fishing pool and a tea room was built. Most of the mill buildings have now been replaced by the building of a mental health centre, though traces of the drained mill pool may still be discerned near the River Rea.

In 1834 there was no settlement at Ten Acres, but 50 years later a small number of houses stood at Pershore Road/ St Stephens Road/ Warwards Lane junction. Just south of Ten Acres, local services developed around Hazelwell Street to provide for an expanding population. In 1878 the Ten Acres and Stirchley Co-operative Society opened a shop on Hazelwell Street; its successor is still there rebuilt as a supermarket at the end of the last century.

The school serving the district was Ten Acres Church School which opened on Warwards Lane in 1874; Darris Road has since been built on the site. It had one schoolroom to accommodate 125 children under one mistress. In 1884 the school was renamed Selly Hill Church School, but it was also referred to as St Stephen's Church School or Dogpool National School. Enlarged in 1885 and again in 1898 to accommodate 440 children, it was reorganised in 1927 for juniors and infants only. The school closed as Selly Hill Church of England School in 1941 due to falling numbers. However, the buildings continued to be used by Selly Park Primary School from 1951 and from 1954 by Raddlebarn Lane Boys County Modern School.

By 1906 ribbon development was spreading along the whole of the Pershore Road from Birmingham to Cotteridge, much of it small terraced houses, many of them tunnel-backs and many of which survive.
William Dargue 04.03.09/ 31.07.2010