Turves Green/ The Turves Green
B31 - Grid reference SP025783
Turvis or Turvelond: first record early 17th century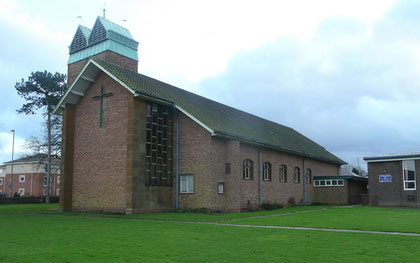 This is 'good-grass green'. A medieval green usually denoted open land used for common pasture. This was open land until about 1860s. The location was around the north end of the road now known as Turves Green. The perambulation of the boundaries of Northfield made in 1863 noted that it had been enclosed four or five years previously. The post-Second World War municipal housing estate is built around the road of the same name.

St John the Baptist is a brick-built church with a chancel and south-east tower which was consecrated in 1967.
There are five stylised oak statues on the mullions of the west window which were designed by the church's architect G H While and carved by the Bromsgrove sculptor, Robert Pancheri. The figures depict four Old Testament prophets Elijah, Isaiah, Ezekiel and Jeremiah with their traditional attributes: a raven, a branch, a wheel and a scroll respectively. The prophets direct attention to the central figure of St John the Baptist who is shown holding a cross and with a lamb lying on the Bible.
Turves Green School opened in 1938 with accommodation for 336 juniors and infants. There had been complaints from residents on the nearby Middlemore and Staple Hall estates to the north about the delay in opening it. When it opened the council closed West Heath Temporary Council School which had been run since 1921 in West Heath Mission Room (now St Anne's Church, Lilley Lane) for infants and from 1922 for juniors. By 1937 a further 100 children were being taught in the adjoining village hall.
In 1939 the senior department opened for 400 mixed boys and girls and that same year the junior and infant department was enlarged; as the estate was built up numbers continued to grow and some 200 juniors and infants were accommodated in huts in the playground by 1944. The following year the senior department became a separate school. A new junior department was opened in 1952 to accommodate 480 children and old block was then used for infants only. In 1953 a new boys' school was opened with accommodation for 420 and the old building was used for girls only.
See also Hawkesley and Longbridge.
William Dargue 02.03.09/ 23.10.2012