Tyseley, Tyseley Hill
B11 - Grid reference SP115842
First record Tisseleye 1327
Old English Tyssa's leah may mean 'Tyssa's forest clearing' and is first found recorded in the 1327 Lay Subsidy Rolls. 'Tyssa may be a personal name, although it is not recorded elsewhere.  However, the name may possibly refer to Tiw, an Anglo-Saxon god of war, or to a person named after him. If this is the case, the name may indicate a rare late survival of paganism, or less likely a settlement founded earlier than the conversion to Christianity. The modern pronuncation, ties ley reflects the modern spelling; it would have been pronounced as tiss ley.

The clearing is on glacial drift which produces soils that were initially easier to work than the surrounding soils of heavy red clay. Tyseley was originally a Saxon settlement, part of the Worcestershire manor of Yardley. The district is now centred around Tyseley railway station which was built in 1907 just off the Warwick Road on Wharfedale Road.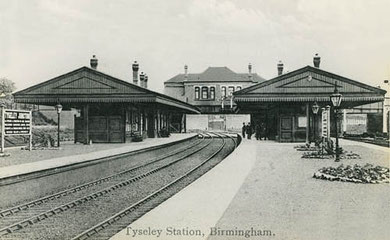 However, where the original settlement was located is open to conjecture.
South of the junction of Sunningdale Road and Ferndene Road in the Middle Ages Tyseley Hall stood within a moat. In Georgian times a successor was built as Tyseley Farm which was demolished in the 1920s. Was this where the Anglo-Saxon Tyssa originally established his claim to the land?

Lower Greet Mill is thought to have stood at the confluence of the River Cole and Tyseley Brook. The site is north of River Lee Road, another name for the brook. Nothing is known about this mill other than that it appears on a map of 1725. It may be that corn was ground here when the manorial mill, Greet Mill was used to make blades during the Civil War. The mill had gone by 1820.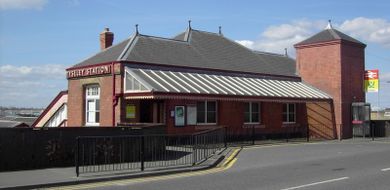 Well worth a visit - Birmingham Railway Museum.

The Birmingham & Oxford Railway had been built in 1852, with the nearest station being at Acocks Green. When in 1907 the North Warwickshire line to Stratford was built, Tyseley station was built just before the junction to serve both lines. The station buildings are little altered and are Locally Listed.
In 1908 Tyseley engine sheds were opened. They were closed and demolished in 1969 but subsequently became the site of Birmingham Railway Museum.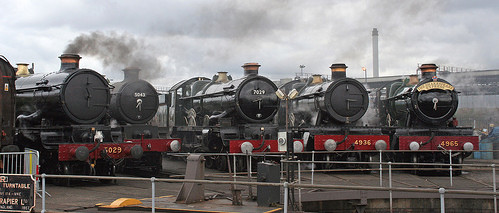 Above: Castles and Halls at Tyseley
Castles - 5029 Nunney Castle, 5043 Earl of Mount Edgcumbe and 7029 Clun Castle; and Halls - 4936 Kinlet Hall and 4965 Rood Ashton Hall at the open weekend to celebrate one hundred years of the Tyseley Locomotive depot. Photograph by Tony Hisghett/ ahisgett downloaded from Flickr and used under Creative Commons Licence Attribution 2.0 Generic. 
In the early years of the 20th century Tyseley developed as a good working-class district, an extension of Sparkhill along the Stratford Road. The opening of Tyseley Station 1907 gave added impetus to building development. Farmland south of Formans Road was developed after Yardley amalgamated with Birmingham 1911. Land east of Reddings Road was subsequently developed by the city council for municipal housing.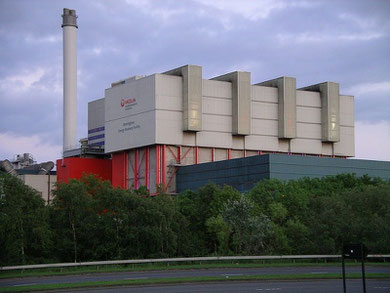 To serve the increasing population St Edmund's Church on Reddings Lane was built as a mission in 1895. Rebuilt as an iron church in 1913 it was given its present dedication and consecrated in 1932. A new rectangular red-brick building with round-headed windows was built by H W Hobbis in 1940. 
Much of the area, especially around Tyseley railway goods yard, was developed for industry and, although there were major industrial changes during the latter half of 20th century, much of it it remains as such.   
Left: Birmingham Energy Recovery facility produces electricity from the city's waste. Image by snowmanradio downloaded from Wikipedia under Creative Commons Licence Attribution ShareAlike 2.5. 
Tyseley Hill was that part of the Warwick Road running up past Wharfdale Road and Tyseley Hill Road. 
William Dargue 02.03.09/ 24.10.2012