Thorn Hill, Soho
B18/ B19/ B21 - Grid reference SP057887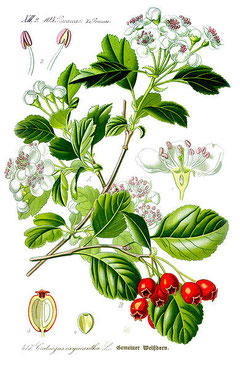 Shown south of Soho Hill on the First Edition Ordnance Survey map of 1834, this is a common self-explanatory placename. The thorn referred to is hawthorn or whitethorn whose striking white scented blossom marks the beginning of spring. The blossom is known as may blossom and this, rather than the month, is what is referred to in: 'Ne'er cast a clout till may is out.'
In autumn the tree is equally distinctive being covered with bright red berries, a favourite with many bird species and edible for humans. Hawthorn is a common native plant which will grow almost anywhere, but which thrives on a warm south-facing slope. In a good spot it will grow to over 5 metres in height.
Left: Hawthorn from Otto Wilhelm Thomé 1885 Flora von Deutschland, Österreich und der Schweiz, a work now uin the public domain, downloaded from Wikipedia.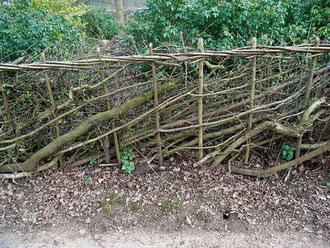 Deriving from Old English, the name hawthorn translates as 'hedge thorn'. It was used from the early Middle Ages as a field hedging plant, and some such hedges still survive within the built-up area of the city. Known as quickset because cuttings root readily and initial growth is rapid, it forms a dense impenetrable thorny barrier to keep livestock contained.
In Germanic tradition the hawthorn was held sacred and used for funeral pyres; in the Middle Ages hawthorns were believed to be the homes of fairies.
Right: A hawthorn hedge laid in traditional fashion at Baddesley Clinton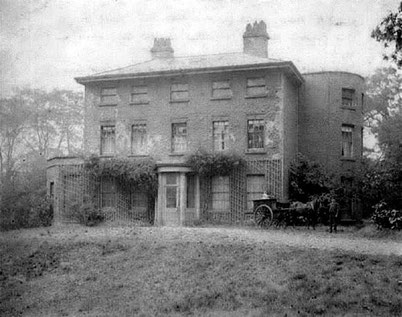 A large 5-bay Georgian house stood between what is now Waverhill Road and Holliday Road in extensive grounds. Thornhill House was bought by Matthew Boulton in 1793 and subsequently let to James Watt Junior who had it refurbished.
In 1818 Boulton's daughter Ann moved in when Watt moved to Aston Hall. By 1829 the house was in use as Handsworth Technical School. It was demolished in 1900.
See also Soho.
William Dargue 04.03.09/ 17.12.12