William Dargue  A History of BIRMINGHAM Places & Placenames from A to Y
Mackadown
formerly in Warwickshire - one of the Domesday manors of Birmingham
B33 - Grid reference SP159862
Machitone: first record in the Domesday Book 1086
The origins of the ancient parish and manor of Sheldon lie neither at the present village centre around St Giles Church, nor at Sheldon Hall in Tile Cross, but at the junction of Tile Cross Road and Mackadown Lane. This was the site of the Anglo-Saxon Macca's tun, 'Macca's farm', some twelve centuries ago. As late as 1940 Bartholomew's map recorded it as Mackidown. The successor of Macca's farm, Mackadown Farm stood here until the 1950s, an 18th-century brick building with a 17th-century timber-framed barn.

Amid the clay lands here was an oasis of sandy gravelly soil which had been left by the glaciers ten thousand years ago; there was still a sandpit near Pitfield Road into the 20th century. This was a soil that was easier to cultivate than the surrounding heavy clay. A hamlet grew up around Macca's farm. And here in the early Middle Ages were set out the great open fields which were farmed in rows of strips: Elder Field lay to the west of Mackadown Lane and Rye-Eddish Field lay to the east between Mackadown Lane and Tile Cross Road. East of Tile Cross Road was Riddings Field the name of which in Middle English described land cleared of trees for agriculture. When the farm buildings were demolished sometime after World War 2, some Bronze Age implements were found clearly suggesting that the area had been farmed by the Celts or even by their predecessors.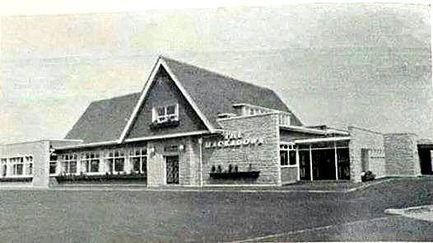 The site of Macca's farm now lies in the modern district of Tile Cross which was developed for housing after the Second World War. And the village of Sheldon itself is now centred on St Giles Church nearly 2 miles away.
A public house by the name of The Mackadown, which was built with the housing development, gave its name to the road junction of East Meadway and Tile Cross Road. The pub was demolished c2000 and replaced by a supermarket, as a result of which the junction is gradually losing its name. 
Right: The Mackdown public house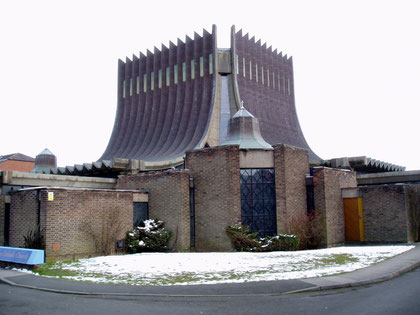 Well worth a look - Our Lady Help of Christians church.
As a result of the Second Vatican Council 1962-1965, a rethink of the involvement of the laity in Roman Catholic church services was called for. A change with far-reaching consequences for the design of Roman Catholic (and other denominations') churches was to place the priest facing the congregation to celebrate the Mass.
There are two good examples of innovative churches in Birmingham by Richard Gilbert Scott, son of the renowned Sir Giles Gilbert Scott whose practice he continued. Apparently the Archbishop of Birmingham gave Scott a free hand in the design as long as the buildings were cheap. One church was that of St Thomas More at Sheldon, the other was this church at Tile Cross, which is a listed Grade II* building.
Image left: Aidan McRae Thomson's Warwickshire Churches
The interior of the building is a T-shape with a forward altar with seats on three sides. The dramatic roof is formed of curved ribbed trusses of reinforced concrete faced externally in copper. There is good stained glass by the painter John Chrestien, a friend of Richard Gilbert Scott. Gavin Stamp of the Twentieth Century Society considered it to be 'one of the most successful of modern Roman Catholic churches in England.'
Image by Gavin Stamp on the Twentieth Century Society website 100 Buildings 100 Years

The Domesday Book recorded:
Alnoth holds Mackadown [from Thorkell]. [There are] 5 hides less 1 virgate. Land for 5 ploughteams. 10 villeins & 4 bordars with 3 ploughteams. 2 acres of meadow. Woodland 1 league long & half wide. The value was 20 shillings, now 40 shillings. Almund held it freely in the time of King Edward.
Translated from Latin

This short text needs some interpretation. Thorkell, or Turchill, of Warwick later surnamed Arden, was an Anglo-Saxon, the overlord of this manor. His father, a descendant of Vikings and Sheriff of Warwick under King Edward, had not risen against William in 1066 and was one of only two Anglo-Saxons in Warwickshire who kept their lands after the Conquest.
The land available to farm was almost 5 hides: a hide was usually reckoned as 120 acres (c50 hectares); and a virgate is half a hide. However, the size was variable depending on how easy the land was to plough. And a hide was not so much a measure of area but a measure for tax purposes. There were three ploughteams here: a ploughteam was usually reckoned as eight oxen with a plough. But the term was actually a unit of measurement denoting the amount of land that could be ploughed in a year and varied according to the nature of the land.

Villeins were villagers, self-sufficient peasants who rented a virgate of land or more from the lord of the manor and paid in kind and/ or labour service. Bordars were smallholders who had a house and a small amount of land rented from the lord, though not enough to be self-sufficient. They subsisted by working on the land of others. However, craftsmen such as coopers, smiths and wheelwrights were also counted as bordars. Each of them may be counted as having on average perhaps a family of five.

Meadow, reckoned in acres (1 acre = c2.4 ha), was pasture for grazing cattle usually along rivers; here there were 2 acres of meadow perhaps along Westley Brook, the boundary with Marston Green or the River Cole. Woodland was measured in leagues and furlongs. A league was 12 furlongs ie. 1.5 miles (c.2.5 km); a furlong was 220 yards (c200m). Woodland was rarely wildwood but a valuable 'farmed' commodity which was exploited through coppicing or pollarding as well as being used as pasture. In the Forest of Arden a greater amount of unexploited woodland may still have been in evidence than elsewhere in Warwickshire. It is not known where the remaining woodland was in this manor.

The value given of each manor is for tax purposes. The king required each tenant-in-chief to pay in service, kind or cash, and he levied tax from the lords of the manors, who in turn levied tax from their tenants. Since the Norman Conquest most Birmingham manors remained at the same value; some had decreased in value. Mackadown, however, previously valued at 20 shillings, was now worth 40 shillings, and had doubled in value, presumably thanks to the enterprise of the lord of the manor, Alnoth, one of the few Anglo-Saxons still to be a lord.
William Dargue 06.04.2009/ 13.12.2020