William Dargue  A History of BIRMINGHAM Places & Placenames from A to Y
Mill Hill
B36 - Grid reference SP141899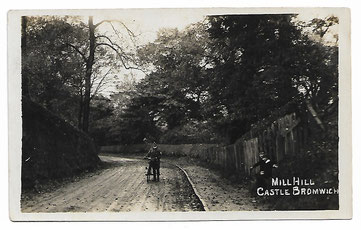 That part of the Chester Road leading up from the Tame ford (later bridge) to Castle Bromwich village. The mill stood south-west of the Chester Road bridge.
The photographer of this postcard is looking up Mill Hill with Castle Bromwich church ahead to the right; the mill is downhill behind him, a route now blocked to vehicles but still accessible via a footpath.

See also Castle Bromwich and The Clock.
William Dargue 06.04.2009/ 13.12.2020