William Dargue  A History of BIRMINGHAM Places & Placenames from A to Y
Moor Pool/ Moorpool
B17 - Grid reference SP030849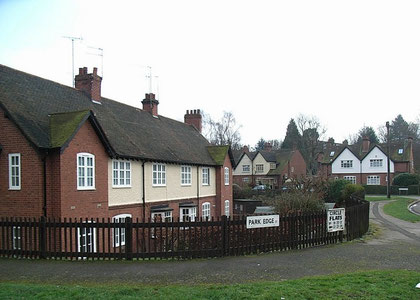 John Sutton Nettlefold was a millionaire screw manufacturer and the uncle of Joseph Chamberlain whom he later took into his business. He was also the first chairman of Birmingham City Council's Housing Committee and a passionate believer in the Garden City movement for social housing.
One of the pioneers of this approach was George Cadbury at Bournville. And it was largely at his instigation that a mutual housing association, Harborne Tenants' Ltd was able to build the Moor Pool estate.
Nettlefold was keen for the City Council not to build what would become new slums, but to follow Cadbury's principles of social housing by building beyond the city's urban area, and to enable working-class people to live in affordable but spacious homes in a pleasant environment. between 1908 and 1913 the estate contains some 500 houses in a variety of types and styles, and is centred around a community hall with tennis courts and a bowling green. Under the Moor Pool Hall is a skittle alley believed to be the only one left in Britain with both a flat and a rounded skittle alley side by side. There are allotments and a park around the small lake after which the estate is named. Moor Pool, whose name means 'Marsh Pool', was designated a Conservation Area in 1970. 
Below: a selection of photographs from the Moorpool Residents' Association website by kind permission of Rob Sutton.
All images are 'All Rights Reserved' and permission for reuse should be sought from the copyright holders. 
Click to enlarge the images.
William Dargue 07.04.2009/ 12.09.2012