William Dargue  A History of BIRMINGHAM Places & Placenames from A to Y
Driffold/ Driftfold
B73 - Grid reference SP113957
Driffold was a part of south-east corner of Sutton Park near Wyndley Pool. The road of the same name ran to the 'driffold' in Sutton Park via Wyndley Lane. Sutton manor house stood on top of Manor Hill near the junction of the two lanes. Much of the surrounding area was built up during the late 19th and early 20th century.

The driffold may have been a fold for cattle or for deer. A 'drive fold' was an enclosure to which farm livestock grazing common land, especially cattle, were driven to determine ownership. The process was known as a 'drift'.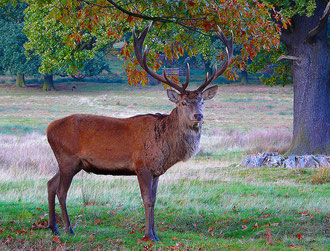 On a chase or deer park such as Sutton Chase or Sutton Park, the same procedure was undertaken by the forest keepers to clear farm animals from the area in order to preserve feeding for the deer.
The opportunity was taken in both cases to impound livestock belonging to owners who had no rights on the common land. Drives were traditionally carried out fifteen days before the Feast of John the Baptist, 24 June and fifteen days before Michaelmas, 29 September.

Alternatively this may have been a 'deer fold'. The site lay at the edge of a deer park and just below the hill on which the manor house stood. Deer were kept for hunting as sport, but they were also kept for food and as high status gifts.
For hunting purposes the deer may have been rounded up at the driffold and set free as the lord of the manor set out, to give him a 'sporting' chance of a kill. And deer would also have been driven here for capture as food or as gifts.

The hunting rights of Sutton were held from the king by the Earl of Warwick from 1126. He had part of Sutton Chase enclosed with a ditch 7 miles long and over a metre deep with a corresponding bank topped with a palisade. There are many places in Sutton Park where the ditches and banks of the deer park may still be seen.

See also Sutton Coldfield and Wyndley.
William Dargue 01.08.2010/ 18.06.2013