Druids Heath
B14 - Grid reference SP074786
Drews Heath: first record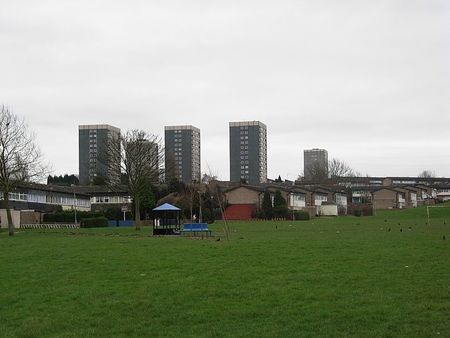 There is no connection here with druids, but with the Drews family. Here is an example of the way in which placenames are changed as people try to make sense of them. This was formerly Drews Heath named after a local family who farmed here until the mid-19th century and who were later forgotten. Drew's Farm stood at the junction of Druids Lane and Bells Lane near the Maypole.

Due to the infertile and quick-draining nature of the underlying soil there are a number of heaths in this area including, from west to east, West Heath, Walkers Heath Headley Heath, Highters Heath and Truemans Heath. The name Druids Heath was given by the City Council to the extensive housing developments of the mid-1960s and early 1970s. Although there is a variety of housing types here, it is the 14 tower blocks, each with 50 flats that dominate the skyline.
Well worth a look: Bells Farm.

Bells Lane in Druids Heath takes its name from the de Belne family who are documented in the area from the time of King Henry III. Named from the lane, Bells Farm is a substantial timber-framed farmhouse first recorded in 1586. It was rebuilt to its present appearance in 1685, but stands on an earlier medieval moated site. The moat was largely filled in the 1970s and can now barely be discerned. A Grade II* Listed building, the house was restored in the late 1980s and is now a community centre open to public use.

The estate is on the edge of the countryside, and Druids Farm remains hidden among the trees at the south-east end of Druids Lane.
Click to enlarge the images in the Gallery below.
William Dargue 09.11.08/ 01.08.2010