William Dargue  A History of BIRMINGHAM Places & Placenames from A to Y
Red Hill/ Redhill, Hay Mills
B25 - Grid reference SP114850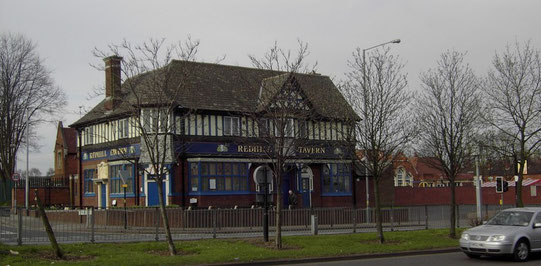 For over two hundred years from the 16th century Redhill Windmill was a prominent landmark for travellers at the river crossing of the Cole. The mill, which stood beyond the top of Ada Road around the present site of Arthur Road, had gone by 1800.
The Yardley tithe map of 1843 names the field here as Windmill Hill. 

Around Birmingham there were many red fields on hills, but the name of this feature on the Coventry Road east of Hay Mills bridge probably referred to the track up the red hill as much as to the hill itself.
The tithe map names a field from Brickfield Road along the south side of Waterloo Road as Red Hill Field. 
Through-routes always tried to find the best ways of travelling ie. across sand and gravel country, but this was not always possible. Red clay is almost impermeable and becomes a slimy morass in wet weather. The road here wore down into a deep holloway over hundreds of years. Even in summer the baked wheel ruts made the road difficult to negotiate and the Cole ford would have been unpleasant to cross at any time of the year.

But the road to Coventry was an important commercial route from the Middle Ages onwards and there was little other choice. When Thomas Telford improved the Coventry Road as part of the London-Holyhead Mail Road after 1801, he built a new road bridge over the river and abandoned the Red Hill holloway for a new route alongside.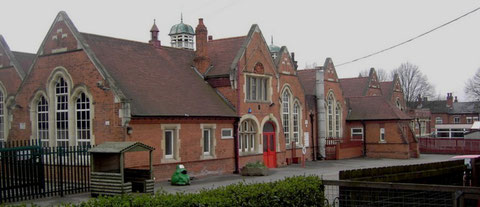 Encouraged by the expansion of Webster & Horsfall's wire-works at Hay Mills, house building here was well under way by 1888. The local clay supplied the brickworks which is now the site of Brickfields Road.
By 1873 there was a school, later known as St Cyprian's Church School. This school for the children of the wire workers was supported by Mr Horsfall, with some 70 attending.

In 1892 the school transferred to the Yardley School Board and closed when Redhill Board School opened later that year. This school initially had accommodation for 540 children and for a further 428 when the new infant department opened two years later. The final housing development in the area was the Redhill estate which was complete by 1911.
William Dargue 23.01.2009/ 02.08.2010