William Dargue  A History of BIRMINGHAM Places & Placenames from A to Y
Raddlebarn/ Raddle Barn
B29 - Grid reference SP049820
Rattlebarn: first record 1789
From the 16th century the word raddle was used with reference to fence making. A raddle is a hurdle, woven with interwined laths like wattle. Perhaps the name here described a timber-framed barn with the walls filled in this way. The word was also used to signify something reddish in colour. It was used of a natural mineral substance found in clay called red ochre. After washing out the sand content a dye could be made from red ochre which had many uses including marking sheep and dyeing wool.

Raddlebarn is close to Stirchley and not far from Kings Norton, an important wool centre during the Middle Ages. Variations of raddle can be found in minor placenames and may indicate the location of a clay pit where was dug to extract the mineral.

Rattlebarn is shown on Pigot's 1828 map of Warwickshire and on the 1834 Ordnance Survey map. Much of the farmland was built on in the early 20th century as the area was built up from Bournbrook in the west and from Selly Park in the east. The farmhouse itself stood on the north side of Raddlebarn Road opposite Warwards Lane until c1970. The name is still in use as streetnames: Raddlebarn Road and Raddlebarn Farm Drive.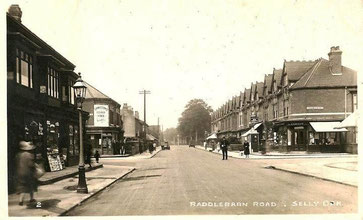 As the population of the area increased Kings Norton and Northfield Urban Dstrict Council opened Raddlebarn Lane Temporary Council school in iron buildings in 1905. Children had previously been accommodated at Selly Oak and Bournbrook Temporary Council School which then closed. A boys' department opened the following year in the nearby Primitive Methodist chapel with accommodation for 126 pupils. In 1909 permanent school buildings were opened 1909 to accommodate 800 children. The boys' department opened the following year. The school was reorganised and enlarged in 1931 and the senior boys' department became a became a separate school in 1945; this closed after 1961.
Raddlebarn Primary School is still accommodated in the original buildings which actually stand in Gristhorpe Road, albeit near the corner of Raddlebarn Road.
William Dargue 14.03.2009/ 26.07.2015