William Dargue  A History of BIRMINGHAM Places & Placenames from A to Y
Robin Hood
B28 - Grid reference SP111804
First record c1800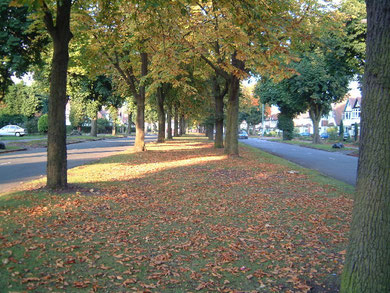 The name, Robin Hood, refers to the junction of the Stratford Road and Robin Hood Lane and the surrounding shopping centre. The junction was also known as Six Ways. Dating from c1800 this name has no connection with the English hero of Sherwood Forest but is probably a misreading of Robin Wood.
This woodland stretched from Stratford Road/ Highfield Road junction down to the River Cole at Trittiford. At some time in the 19th century the name was misread or miswritten as Robin Hood.

The name was subsequently adopted by the Robin Hood public house. This was built as a large private house and was converted into a pub in the 1920s when the tram-lines from Birmingham City Centre reached here. It was then a countryside attraction for tourists from Birmingham.
Image: Robin Hood Lane © Copyright Darius Khan and licensed for reuse under Creative Commons Licence: Attribution-Share Alike 2.0 Generic. Geograph OS reference SP1080.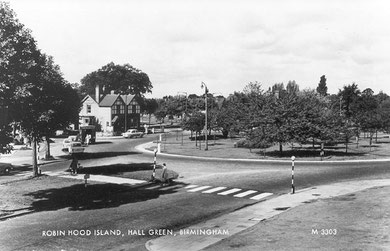 The name was later applied to the nearby cemetery and golf course. Robin Hood Farm stood off the Stratford Road just south of Baldwins Lane until c1933 when it was demolished for the construction of the Robin Hood roundabout, at the time the largest in the city.
Robin Hood Island 1955. Image from Peter Gamble's now defunct Virtual Brum website.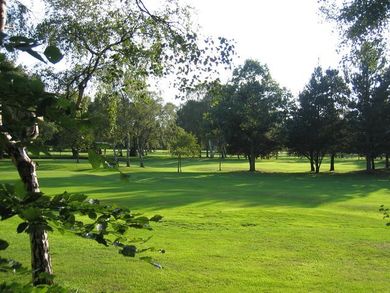 In the Middle Ages a croft ie. an enclosed field here, is documented as Conygre meaning 'rabbit warren'. Rabbits were first introduced from the Mediterranean in early Norman times and farmed commercially on a wide scale by the 13th century. Whether for food or fur they were an expensive luxury for the rich.
However, these were not the fast-burrowing, fast-breeding rabbits that are now naturalised in Britain, but a species that needed to be carefully nurtured in the English climate. Warrens, sometimes known as pillow mounds, were created for them, and a light soil was ideal.
The name Sandy Hill on the Stratford Road south of Six Ways indicates the nature of the soil in this area, good rabbit territory. Sandy Hill Farm stood where Sandy Hill Road now leaves the Stratford Road.
Click to enlarge the images below.
William Dargue 14.03.2009/ 01.09.2012