William Dargue  A History of BIRMINGHAM Places & Placenames from A to Y
Rotton Park
B16 - Grid reference SP046873
Rotton: first record 1275; Parc de Rotton juxta [near] Birmingham 1307
The finding in Rotton Park of a worked flint in 1910 was the first evidence of the neolithic period to be found in Birmingham. A barbed arrowhead some five thousand years old was spotted by Professor West on the gravel surface of Gillott Road. The flint, however, may not originate from Rotton Park but have been brought from the source of the gravel. This artefact may now be seen in Birmingham Museum.

The original name of the district is Anglo-Saxon and derives from rot tun meaning 'cheerful farm', though the location of that settlement is unknown. The modern district takes its name from the medieval deer park of the de Birmingham family. The bounds of the park were probably Dudley Road, Ladywood Middleway, Hagley Road, Sandon Road, and Shireland Brook. Deer parks had existed in Anglo-Saxon times but they were made viable after the Norman Conquest by the introduction from Sicily of fallow deer, a more manageable beast than the native red deer. Parks increased in popularity and by 1200 every wealthy landowner had one.

One hundred years later there were over 3000 deer parks in England. Especially common in wooded areas such as the Forest of Arden, they required expensive royal permission and involved a great deal of labour digging ditches and building banks topped with palings or thorny hedges. Sometimes fenced compartments were made within the park to prevent new plantations and coppiced woodland from being eaten by deer. Parks were both expensive to create and to maintain. Towards the end of the Middle Ages they declined in popularity but were revived by the personal enthusiasm of Henry VIII.
This clearly was not the case here. The 1529 survey of the manor of Birmingham described a neglected park:
Ther ys a p'ke belongynge to the Manor wherein ys a greate ponde whych ys o'r growen wt. wede & rede,
& lytell fyshe er now therein, and the logge ys sore decayed.

The de Berminghams lost the manor in 1553 and the demesne, ie. the manorial fields, was enclosed, as was much of Rotton Park. These open lands were split into smaller hedged closes, some one hundred and fifty in Rotton Park, with a maximum size of some five hectares.
Well worth a look - Perrott's Folly
In the mid-18th century John Perrott bought the last remnants of the old manorial park and moved into Rotton Park Lodge. Standing on the slight hill near the junction of Gillott Road and Rotton Park Road, this had been the park-keeper's lodge and may well originally have been moated. Rebuilt in Tudor times, it remained the centre of working farm until early in the 20th century.

Perrott's Folly or the Monument stands 30 metres high on Waterworks Road. With a climb of one hunded and thirty-nine steps, it was built in 1758 for Perrott as a viewing tower on his country estate. The folly is octagonal with pointed gothic-style windows and an embattled top storey. From 1884 it was used by Abraham Follet Osler as one of the world's first weather stations. He invented the self-regulating wind gauge which he tested on this site. 
The tower continued to serve as the Birmingham & Midland Institute's weather observatory until 1984. The building began to deteriorate until in 1958 a successful public appeal was made for its repair. As Birmingham's only surviving folly this Grade II* Listed building has recently been renovated and is regularly open to the public.

After Perrott's death in 1766, his grandson sold off the estate. The remaining park was sold off in various lots by 1852. One of these went to Joseph Gillott who had made his fortune by mechanising pen-nib manufacture. He subsequently laid it out as a middle-class suburb along the lines of neighbouring Edgbaston and many large houses remain.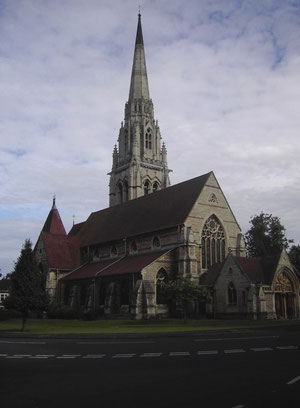 St Augustine's Church

The building of a church dedicated to St Augustine of Hippo was initiated by Gillott and designed by Birmingham architect J A Chatwin. It stands alone on an island and is prominently visible from the three roads which lead up to it. Built in late-13th-century geometric gothic style, this expensive church is finished in fine detail. Consecrated in 1868, the tower built was eight years later. The exterior of this elaborate church is rock-faced, the interior faced in stone.

There are thirteen stained glass windows, of which eight are by Hardman's, a Birmingham firm of international renown. A carved reredos depicting the Last Supper is after Leonardo da Vinci. The richly carved pulpit and chancel screen, the painted chancel ceiling and the bas-relief life of St Augustine carved over west door contribute to this fine example of the Victorian revival of gothic architecture, a Grade II* Listed building. The church stands at the heart of St Augustine's Conservation Area.

Houses in St Augustines Road are mid-1870s red-brick with gothic detail, houses in Melville Road are late-1880s and in early English and Queen Anne styles, many Lyttleton Road houses date from after 1896 and were designed by John Statham Davies, Moorland Road is early-20th century and also has early English and Queen Anne styles, Rotton Park Road dates from 1904.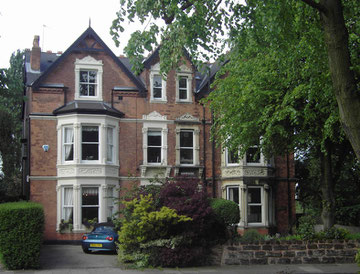 There are a number of houses here by the Birmingham partnership of Ball (architect) & Barnsley (builder) including 17-19 Rotton Park Road in a simple cottage style and Grade II Listed, Thomas Barnsley lived at No.17. Although there are only two Listed buildings, the area has been maintained to a high standard with little change and boasts a variety of housing styles typical of their time.

Christ Church, at the junction of Summerfield Crescent and Gillott Road, was dedicated as a memorial to George Lea, perpetual curate of St George's Edgbaston 1864-1883.
Designed by Birmingham architect, J A Chatwin in a spacious perpendicular style, it was consecrated in 1885. It is Grade II Listed. St Germain's on City Road is a large church designed by E F Reynolds in romanesque style and built 1915-1917 in brick. It was one of only two churches built during the First World War.
The eastern end of the district developed as a working-class area and looked more towards Ladywood than to its wealthier neighbour. Some of this area was redeveloped during the 1960s. Although most of the Rotton Park was built up by 1900, some farmland remained around Stanmore Avenue as late as the 1930s.

The Birmingham Canal cut in 1769 followed the 450 foot contour of the land, circuitous though that was, to avoid the expense of building locks. The New Main Line, which was built in 1837 by Thomas Telford to upgrade the canal, cut through the old loops by building embankments and cuttings. The loops remained however, giving additional access to industry along the banks. The Old Main Line is still navigable although towpaths do not exist along some of the original loops.
Well worth a look - Edgbaston Reservoir.

Icknield Port Loop or Rotton Park Loop is used as a feeder from Edgbaston Reservoir. This was originally Roach Pool within the deer park and fed by local streams including Ladywood Brook. The valley was dammed in 1820 by Thomas Telford to create a canal feeder which covered forty hectares to a depth of fifteen metres.
This reservoir was extended in 1832 and again in 1835-1836 when the dam was raised and lengthened. The reservoir has a capacity of one and a half billion litres sufficient for four thousand five hundred locks. It is also fed from Titford Pools at Smethwick by an underground feeder entering the reservoir via a sluice at the northern bay near Gillott Road.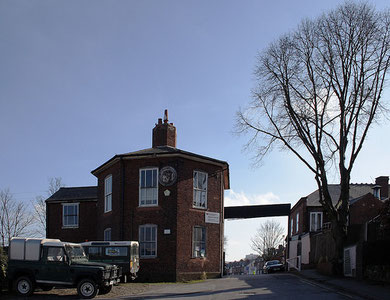 Edgbaston Reservoir, dam, gatehouses and weighbridge hut, Reservoir Cottage and Reservoir House are all Locally Listed. Also near Icknield Port Road cast-iron grab winches to lower the sluice gates in an emergency, gates to allow narrow-boat access for repairs, circular building with valves to regulate water flow to the weir, the weir itself, workshops and a manual crane for unloading boats are Locally Listed.
The Reservoir Lodge in Reservoir Road is Grade II Listed and similar in design to Telford's tollhouses on the A5 Holyhead turnpike and is now the park ranger's office. Off Icknield Port Road the stables, covered dock, superintendent's office, workshop, stores and crane at British Waterways Maintenance Depot are also Grade II Listed.

The remnants of Rotton Park were used as a leisure facility and developed as such during the late 19th century. The reservoir was bought by the City in 1957 as a leisure resource and developed as a park and water-sports facility; it is the home of the Midland Sailing Club. The park covers forty hectares of which over half is the reservoir itself. With its marsh and woodland this is an important site urban for resident bird life as well as a regular stop-over for passing migrants.
William Dargue 14.03.2009