William Dargue  A History of BIRMINGHAM Places & Placenames from A to Y
Fox Hollies, Acocks Green; Fox Green
B27 - Grid reference SP113826
atte Holies: first record 1275; Fox Farm 1465; Fox Holleys 1626
Deriving from Old English atte Holies, this placename means 'at the hollies'. It is likely that the resident family took their surname from the placename.
Fox Hollies Hall near Fox Green Crescent was originally a medieval assart built on land which belonged to Maxstoke Priory. The farm here was bought from the atte Holies family by the Fox family in 1649. Sometime before 1860 it had become an inn and entertainment centre, but was bought in 1869 as private residence and lavishly rebuilt in Victorian Italianate style by the Walker family, possibly around the original building.
The hall was last occupied by Colonel Zaccheus Walker IV who sold the estate to Birmingham City Council for housing c1920. After his death in 1930 the hall was demolished and some of the surrounding park maintained as Curtiss Gardens where part of the gateposts to the hall remain facing Fox Hollies Road.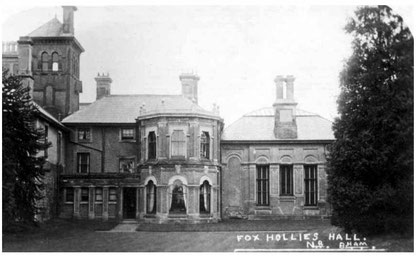 Part of an ancient local route is the Yardley ridgeway which runs from Pershore to the River Cole crossing at Trittiford in Yardley Wood. The route continues through Hall Green always on higher ground via School Road, Highfield Road and Fox Hollies Road to Yardley where the route splits. One way goes along the ridge via Church Road Yardley to Cole Hall Lane before meeting the Chester Road at Castle Bromwich; the other route follows the valley of Stich Brook along Stoney Lane to the River Cole crossing at Stechford Lane and on to Bromford.

Fox Green was at the junction of Shaftmoor Lane, Summer Road and Fox Hollies Road and would have been open grazing land during the Middle Ages.
William Dargue 19.12.2008/ 02.08.2010