William Dargue  A History of BIRMINGHAM Places & Placenames from A to Y
Four Ways, Rednal
B45 - Grid reference SO999759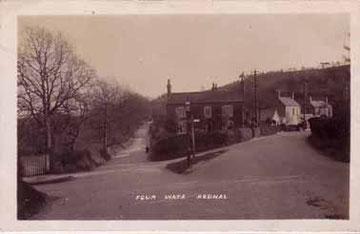 At the foot of the Lickey Hills at Rednal, this Four Ways is the junction of Lickey Road, Groveley Lane, Barnt Green Road and Rose Hill, and was so-named probably from the end of the 19th century. It is now known as Rose Hill Roundabout.
A postcard of Four Ways in 1909. The photographer is standing in Lickey Road; Rose Hill is to the right.
This All Rights Reserved image is courtesy of Deryk at Postcard World with whose kind permission it is reproduced here. 
William Dargue 18.12.2008/ 02.08.2010