William Dargue  A History of BIRMINGHAM Places & Placenames from A to Y
The Firs
B36 - Grid reference SP135896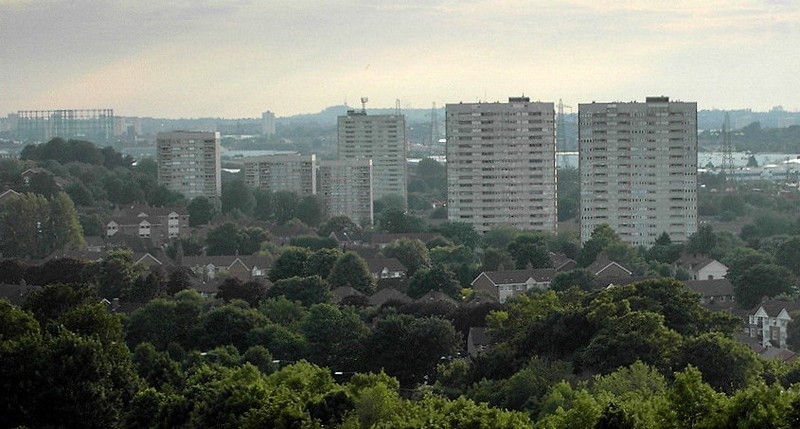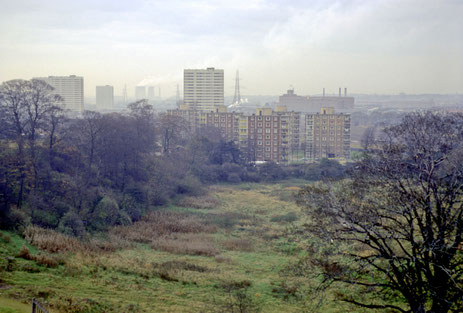 The Firs estate near Hodge Hill was a municipal development of the mid-1950s. Set out east of Chipperfield Road, it comprises a variety of housing, including traditional 2-storey houses, 4-storey maisonettes and 10-storey tower blocks.
Two primary schools were built to serve the estate, a church, a small neighbourhood shopping centre and a community hall. After a substantial decline, the tower blocks were demolished and the housing estate extensively refurbished at the end of the 20th century.
Left: The Firs estate photographed in 1968 from the top of Pimple Hill, Castle Bromwich by Phyllis Nicklin on University of Birmingham ePapers Repository.
The nearest blocks were completed in 1959 and demolished in 2001. The further taller blocks were at Bromford. The Chemsley Collector Road and M6 motorway now run across the open space here.
The estate was built on the former farmland of The Firs, a mansion located on the site of Firs Farm Drive, and the residence of the bailiffs of the Bradford estates in Castle Bromwich. The name probably derives not from fir trees, but from the shrub, furze. This is another name for gorse and a plant typical of less fertile quick-draining soil. 
William Dargue 13.12.2008/ 01.08.2010