William Dargue  A History of BIRMINGHAM Places & Placenames from A to Y
Fox Hollies, Sutton Coldfield
B76 - Grid reference SP147943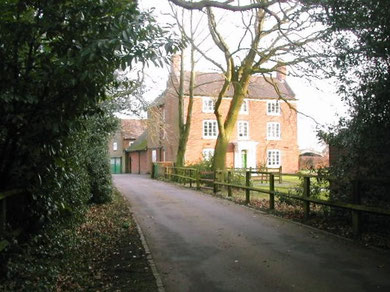 Fox Hollies lies on Fox Hollies Road opposite Signal Hayes Road to the east of Sutton Coldfield. The house of the same name is a Grade II Listed building. The complex of buildings here were the centre of a farming estate and date from different periods. The house itself is probably early Victorian.

The origin of the name is unknown, but may well be topographical unlike Fox Hollies in Acocks Green, which includes Fox as a surname.
Stone Age finds
A number of flints have been discovered in fields near Fox Hollies in recent years dating from the New Stone Age c4000 BC - c2500 BC. The finds included flint cores, ie. the stone left after tools had been made from the outer layers. A flint scraper was also found which had been retouched as a knife. In earlier times tools tended to be made from whatever stone was locally available. Neolithic flint tools, however, were usually made from larger pieces of higher quality flint imported from chalk areas where it had been mined. The presence of flint cores implies a site of tool manufacture and therefore of settlement in the immediate area. As the Neolithic period saw the introduction of agriculture, the site here may have been farmed perhaps for over 5000 years. East of the junction of Fox Hollies Road/ Webster Way a Bronze Age burnt mound has been discovered.

Shards of medieval pottery dating from the 13th and 14th centuries have been found during archaeological fieldwalking. This is common around medieval settlement sites, where broken pottery was thrown onto the compost/ dung heap with the household waste and then later scattered onto the fields as fertiliser. Some of the farms here were assarts, the medieval enterprise of individual farmers, However, co-operative farming is also represented by extensive ridge and furrow east of the roads junction stretching as far as the A38. These earth features are the remnants of the strip farming system.
William Dargue 21.01.2009/ 16.10.2012