A Brief History of Selly Oak
by the late James Hyland
James Hyland died in 2009. He was a retired History teacher living near Selly Oak, with over 20 years experience producing historical material for schoolchildren. He also taught at adult evening classes, university classes and worked as a local authority adviser.
The text of this page was made available to me by James Hyland and can be found on this website as part of a Word document, William Dargue's 'History of Birmingham on Your Doorstep'. Other material on the page was downloaded from the the late Peter Gamble's Virtual Brum website which sadly is no longer on-line.
A Brief History of Selly Oak
The area of Selly Oak has a long history since at least Roman times. Its borders were probably Merritts Brook and the River Bourn plus Ryknild Street (the old Roman road, later named Icknield Street of which Ryknild was a corruption, it linked the Fosse Way and Watling Street). Rivers were handy boundaries as they were difficult to move or hide. The area is mentioned in the Doomsday Book of 1085, as 'Escelie or Eschelli'. It was owned by Fitz Ansculf who lived in Dudley Castle.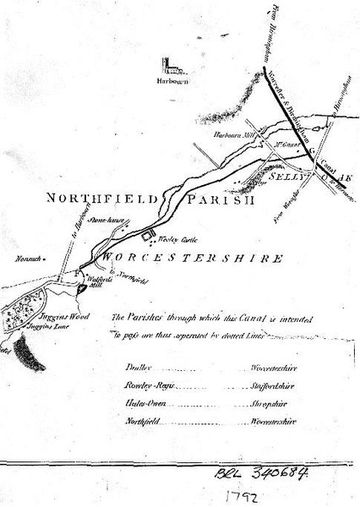 There are many theories how Selly Oak received its name, they range from 'salt ley' or saltway through the meadow because of salt traffic from Droitwich to the North Sea: to 'Sele leah' or clearing with a hall on it or a clearing on a shelf of land.
Others claim that it results from the Saxon word 'ley' meaning clearing in the forest, because of its position in the Forest of Arden.
Some later sources claim that the name refers to Sarah's oak (later Sally's oak) after a local witch who was either hanged from it or was buried under it with an oak stake through her heart, which later it was claimed grew into an oak tree.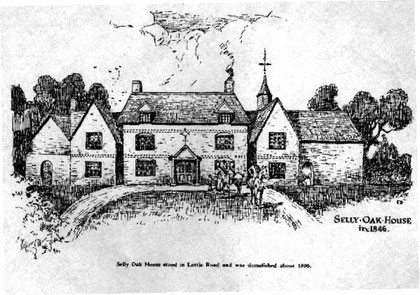 The name Selly Oak predates the local oak tree by some years but there may have been an earlier example.
The "Oak" part of the name is found in two canal survey maps of the 1790's although one does call it Sally Oak The oak tree itself was planted in the grounds of Selly Oak House around 1830, possibly to celebrate the coronation of King William IV in that year, by John Rodway, who bought the house in 1822 and sold it in 1833.
Interestingly it was another John Rodway, his grandson who in 1864 sold Selly Hall in Selly Park to the Catholic Church as St Paul's Convent.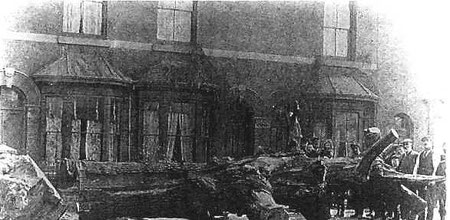 It is known that the oak tree was located on the corner of Oak Tree Lane and Bristol Road at a site called Oak Tree Place, a blue Victorian sign (1880) is still attached to a shop on the North side of Oak Tree Lane.
The tree was damaged by the construction of houses nearby, now used as shops, which damaged the roots resulting in changing the tree into a stag oak. It is possible to exactly locate the missing tree by the difference in roof levels on contemporary photographs.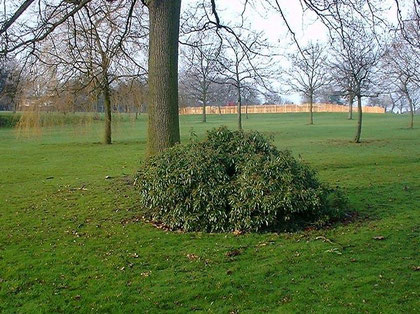 By May 1909, the state of the tree, fears about its safety, its lopped branches and the demands of road traffic and pedestrians led to its removal around the 21st of May.
The stump was then saved and removed to Selly Oak Park. A brass plaque recorded that it had been put there by Kings Norton and Northfield Urban District Council.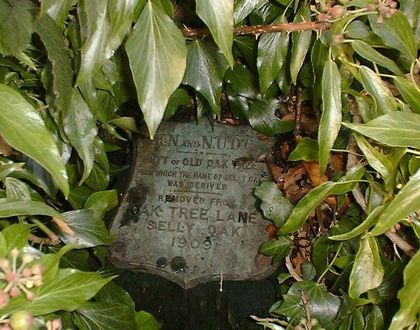 The plaque read 'Butt of Old Oak Tree from which the name of Selly Oak was derived. Removed from Oak Tree Lane, Selly Oak 1909'. By 1976 it was reported that the stump was mostly rotten, but in 2001 the remains of stump and plaque can still be found, covered in ivy.
These photographs have now led to the dendrochronology (tree ring dating) of the old stump. Results of which dated to the tree to 1710-1730.
A new oak tree was planted in 2000 outside Blockbuster on the Bristol Road and Oak Tree Lane junction. A plaque notes that it is a replacement for the old oak but does not repeat the canard that the area is named after its predecessors.